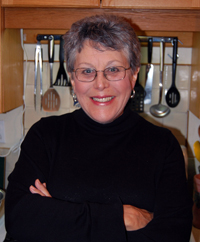 Traditions for ringing in the New Year are almost as numerous as those for Christmas. Plans depend on stage-of-life, too. When we had children at home — six, for some few years — it seemed more useful to celebrate the New Year at home so that we'd be there if anyone needed a drive, and when the kids came home. More recently, we often walked the dog, and then had a few friends in for a little nosh around midnight. Mostly, we try to avoid driving — not hard in Revelstoke. For several years we visited my parents, when they were involved in a neat "progressive party" around the neighbourhood — a different dinner course in four different houses, all on the same block. Another approach is to get through the Eve and focus on New Year's Day and the weekend after.
A few people have told me they would find useful some recipes for make-ahead, easy appies: some you can either freeze then cook on the spur of the moment, or stick in the fridge until needed. And let's face it, there are times when the crunch of carrot and celery sticks just doesn't cut it.
For finger food fast, this is a time to forget being a purist: if the cook is to enjoy an evening — whether it's after the lamplight Nordic ski, a toboggan party, evensong or just good brisk walk around the greenbelt path — then the cook needs to get out of the kitchen for the evening. This means varying from my usual "scratch" philosophy. Buy the pastry shells or puff paste ready-made.
One approach of course is to have things catered: order and pick up pizza, sushi, samosas, or say a mac and cheese casserole. Another is to buy frozen sausage rolls, spring rolls, chicken wings, shrimp plates or simply a selection of great cheese and special crackers with some fresh grapes and sliced apples. In Revvie, specialty shops such as Paramjit's Kitchen, Mountain Meals, Revelstoke Pizza, La Baguette, The Modern Bakery, and The Chalet, can help out. If you stay at home, however, go for munchies that follow three rules: they should be hearty, yummy and able to be made ahead of time.
The recipes that follow are written up using specific pastry cases, but in fact they are interchangeable, so be inventive and switch them around.
For 4-6 people, one of the bites recipes plus a salad and dessert is ample (they are fairly rich); for more people, add one more item for every 4 people. You'll have some left over, but they make great leftovers, eaten hot or cold. If you are going to make all of these for a party, make all the fillings first, then do the cases. You'll need packaged tart shells, frozen puff pastry and a package of phyllo pastry. Equipment for the mini bites requires tiny muffin tins (the size for mini brownie bites) holding 24, and cookie sheets for the tourtière crescents, the smoked salmon tartlets and the strudel. Different sauces or dips give different character to each one. For speed and ease, I like bottled Thai Sweet Chili Dipping Sauce, or mango chutney from Paramjit's Kitchen. Bottled honey mustard is also good.
A note about food processors: for years I resisted both a food chopper and an electric bowl mixer. Since my daughters gave me one of each, I now can scarcely imagine life in the kitchen without my Cuisinart and my Kitchen Aid. However, a strong wrist and lots of dedication can achieve, in fact, the same results. It just takes a lot longer. But if you are light on fancy equipment, don't despair — try for a hand-held mixer and a very sharp knife.
Smoked Salmon Tartlets
Beef Chili Mini Bites
Tourtière Crescents
Butternut Squash and Feta Strudel in Phyllo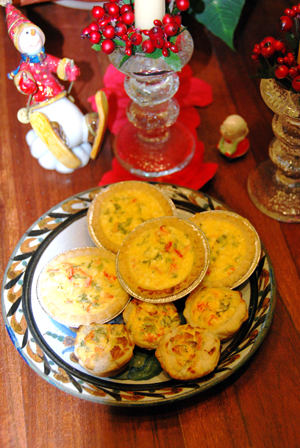 Smoked Salmon Tartlets
2 boxes pastry tart shells ready-made (24)
1 package cream cheese (not lite)
2 eggs
2 tbsp milk
1 tbsp lemon juice
85 gm smoked salmon (the size of one small pack)
1/3 cup minced shallot or green onion
1 tbsp minced parsley
¼ tsp pepper, white or black
Set all the tart shells on a cookie sheet and preheat the oven to 400 F.
The filling
Mix the cream cheese, eggs, milk, lemon juice, parsley and pepper in the food processor and blend until smooth. Chop the smoked salmon and mince the onion, and add these to the mix by hand.
The tartlets
Fill each tart shell 2/3 full. Bake for 10 minutes at 400, then lower heat to 350 and bake another 10 minutes. Cook on a rack. Serve either room temperature or chilled. Can be frozen either baked or unbaked. Reheat for 10 minutes at 400° if you want to eat them hot.
Watch these disappear – they are rich, delicious and filling.
Beef or Chicken Chili Minibites
You can make this with either ground chicken, or cooked finely chopped chicken, or beef.
1 package frozen puff pastry
1 tbsp olive oil
½ lb lean ground beef or ground chicken breast
½ cup mashed potato, or 1 small baked potato, skinned and finely minced
1 small onion or 2 shallots, minced
1 large clove garlic
½ stick celery, minced
¼ cup beer
1 tsp grated orange rind
¼  cup salsa
½ tsp ancho chili powder ( more if you want these very hot)
½ tsp salt
24 small slivers of cheddar cheese
Preheat oven to 400° F.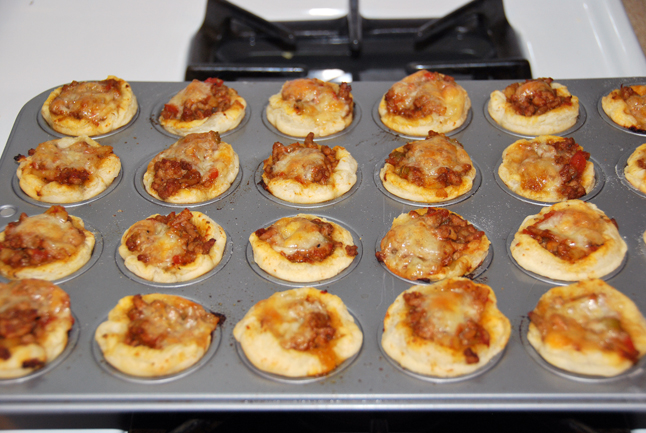 The filling
Heat the olive oil in a sauté pan and add the meat, onion, garlic and celery. Stir fry until meat is browned. Add the beer, salsa, orange rind, chili powder, salt and the potato. Cook and stir until well integrated, then remove from heat and cool slightly.
The cases
Make bite shells: roll out the puff pastry on a sheet of lightly floured wax paper (put about 1 tbsp of flour on the paper and shove it around. Flour the rolling pin too.) Use a cookie cutter or glass to cut out 3-inch diameter circles. Put each circle into a tiny muffin tin, pushing the centre down into the little muffin tin and bringing the sides up so that they extend slightly beyond the edge. By rerolling the extra bits, you'll have enough to make 24 bite-sized tartlets.
Fill each little tartlet with a tbsp of the meat mix. Place a sliver of cheese on top. Bake for 20 minutes in the oven, turning the heat down to 375 once they go in.
Tourtière Crescents
1 package frozen puff pastry
1 tsp olive oil
½ lb lean ground pork
1 small onion, finely chopped (1/4 cup)
2 cloves garlic, minced
½ stalk celery, finely chopped
½ cup mashed potato, or 1 small baked or boiled potato, minced
½ cup stock or white wine
½ tsp each pepper, dried thyme and salt
¼ tsp each cinnamon and ground cloves
1 egg yolk
a glass of water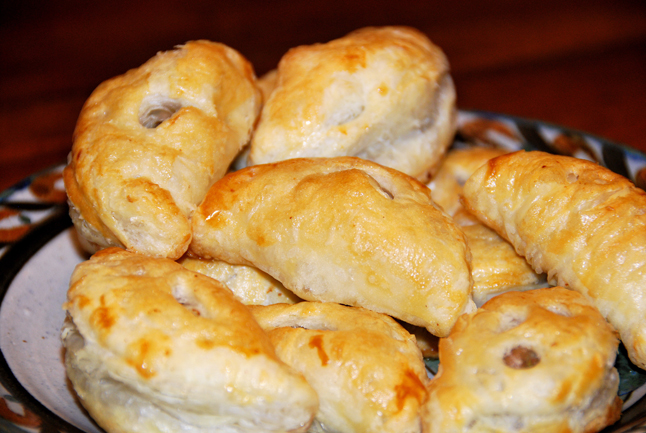 The filling
Brown the ground pork in a sauté pan in the oil; add the garlic, onion and celery. Add the stock or wine, the seasonings and the potato. Simmer covered on low for 15 minutes until all is well combined and very aromatic. Cool.
The cases
Roll out on a sheet of lightly floured waxed paper the puff pastry dough, and cut out 3-inch diameter circles with a cookie cutter or a glass. Still working on waxed paper, spread out 4-5 circles. One at a time, put your finger into a glass of water and run your finger around the outer edge of the dough circle. Put about 1-2 tsp of meat on the circle, then fold over and press with your fingers around the meat to make a little crescent. Use the tines of a fork to seal the crescent with the meat inside. Put each circle on a cookie sheet. When they are all done, with a very sharp small knife, cut a short ¼ inch line in the top of each crescent. Mix the egg yolk with 1 tbsp water, and brush the egg glaze on top of each crescent.
Bake in an oven set to 400° F and immediately reduced to 375°, for 25-30 minutes, or until golden.
Butternut squash and Feta Strudel in Phyllo Pastry
This is a variation on the spinach pies so favoured in Greek cooking. The butternut squash sweetens the dish, and gives it a more distinctly BC flavour. You can make triangles, rectangles or a strudel—follow the directions on the inside of the package for the shape variations.
1 package frozen phyllo pastry
½ cup butter, melted
1 tbsp olive oil
1 cup finely chopped butternut squash
1 cup Feta cheese, crumbled
¾ cup grated Romano or Parmesan cheese
1 small onion, minced
2 cloves garlic, minced
1 egg, lightly beaten
1 red pepper, finely chopped
3 tbsp fresh parsley, minced
1 tbsp fresh lime juice
½ tsp pepper
Preheat the oven to 400° F.
The filling
Heat the olive oil in a sauté pan and add the onion, garlic, squash and red pepper. Cook until the squash is soft. (Add a few tablespoons of water if anything seems to get too brown.) Remove from heat and put into a largish bowl. Add the feta cheese, the parmesan, egg, parsley, lime juice and pepper.  Mix well.
The phyllo pastry case
Working with phyllo requires a gentle touch—it tears easily, dried out easily and can get mushy near too much water. For this recipe, you will need 12 sheets — it makes 2 strudel logs. (I tried this with as few as 3 sheets and the result was too delicate for this filling.) Take the 12 sheets out of the package then roll the rest back up, put it back in the plastic cover, seal it, and put it back in the freezer. Separate the 12 sheets into 2 groups of 6 each. Try to handle the dough as little as possible. Wrap the 6 sheets you're not using right away in a barely damp clean tea towel.
Pile the 6 sheets for immediate use beside a cookie sheet on the counter. Working with one sheet at a time, place it on the cookie sheet, then brush with melted butter more or less all over, being careful not to tear the dough. (A silicone brush is the best way to do this — bristle brushes cut into the phyllo.) Create a stack of 6 layers of dough and brushed butter.
Lay on the close edge of the phyllo stack half the filling. Spread it into a line along one edge of the dough, and 1 inch away from all edges. Fold the sides in to make a seal for the dough on the edge where it sits. Then gently roll — you will need two hands and a third is always useful (that one growing out of your abdomen) — and create a roll with the filling inside. Place this seam down on another baking sheet. Repeat with the second lot of phyllo and the rest of the filling. Brush the logs with the remaining butter.
Bake at 400° about 25 minutes, or until golden on top.  Cool somewhat before slicing diagonally. Each log makes 8-10 slices.