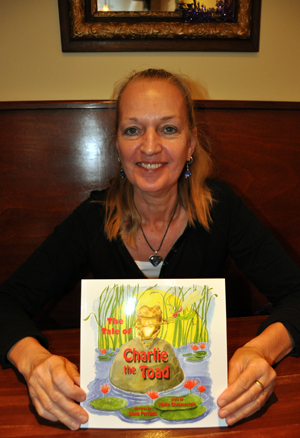 By David F. Rooney
The Tale of Charlie The Toad, the latest children's book by local author Mieke Blommestein is a lovely and beautifully illustrated soft-cover book for young boys and girls.
"I am very pleased with it," she said in an interview Tuesday. "It's a nice story and Diane's illustrations are gorgeous."
This slim volume, the second in a series of books written by Blommestein and illustrated by Pasadena, Calif., artist Diane Perruzzi, features a toad named Charlie whose vivid fantasy life fails to cure him of the blues. Fortunately he meets a helpful grasshopper who helps him learn a valuable lesson about life and love.
Like its predecessor, 2009's successful The Tale of Miss Spider Who Spun Her Web, there is a gentle lesson for children contained in its pages.
Blommestein said she will be selling copies of her latest book at the Farmers' Market on Dec. 4 and Dec. 11 from 10 am until 3 pm and will be signing copies at Grizzly Books on Dec. 18 from noon until 3 pm.
Copies can also be found at Amazon.com and at book stores in Nelson, Salmon Arm, Winlaw and in Vancouver on Granville Island.
You can find out more about Mieke Blommestein's books at www.storiesfrommysoul.com. You can discover more about artist Diane Perruzzi at www.dianeperruzzi.com.