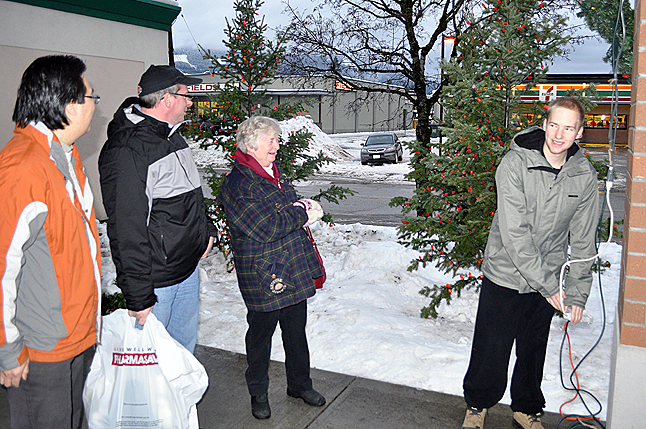 By David F. Rooney
Revelstokians responded to Tyler Smith's need for a heart transplant with their customary generosity, purchasing 1,082 bulbs to benefit the 18-year-old during his recovery.
"Nobody ever thinks they'll get sick," said the pale and tired-looking youth after he threw the switch to light up the brilliant red bulbs that covered two Christmas trees and a number of wreaths outside Pharmasave. "And I never thought the small town I was trying to move away from would respond like this. I've learned where my home is, where my heart is. Thank you."
Those are simple words but they express so much.
Tyler has spent most of the last few months in St. Paul's Hospital in Vancouver. He recently discovered that he has heart disease so serious his survival depends on a heart transplant. He is now waiting for a heart from a suitable donor.
Family friend Dave Bennewith was so concerned about how Tyler and his parents, Marie and Barry Smith, would be able to cope with the expenses that will be incurred during the year that Tyler has to stay in Vancouver after his transplant that he approached Steven Hui at Pharmasave about helping the family through a fundraising campaign. And thus was born the Light Up a Tree for Tyler campaign, which asked people to purchase a Christmas light for $2.
As of Saturday, 1,082 bulbs had been purchased.
Marie and Barry were deeply touched by the campaign and its result.
If you'd like to help Tyler and his family there is an official Tyler Smith fund (trusteed by Stephen Hui and Dave Bennewith)at Revelstoke Credit Union. You can simply walk in to a member service representative and make a donation. Or mail a cheque payable to the Tyler Smith Fund to Revelstoke Credit Union at Box 989 Revelstoke, BC  V0E2S0. This fund was set up to cover the many large expenses involved with Tyler's care. It is controlled and administered by the trustees, Stephen Hui and Dave Bennewith.
If you would like to contribute in a more personal way; Tyler's grandmother, Elaine Ralph has set up a separate fund for Tyler to help with the more personal things he will need on his journey to recovery. She would welcome your help and can be reached at home 250-837-5923 or email elaine.ralph@revelstoke.net.
If you would like to be actively involved in things happening around town to help, or do something special yourself, please contact Dave or Jan Bennewith at 250-837-5215 for information.