RECIPES
Lime Chicken Curry
Lorna's Lovely Lemon Loaf
Lime Meringue Pie.
Lime Chicken Curry
I love Asian food of all types. It wasn't until I started trying to cook different Asian dishes, though, that I began to realize some of the deep differences between the various cuisines. Indian, with its long slow simmering and roasting and deep complex flavours, is very different from Thai and Japanese, where freshness is all and flavours less mingled. I wanted a coconut-based Thai type curry for citrus, and also wanted something easy and reasonably quick, as I'm in the midst of a book project that seems to devour my time. This may not technically be a curry, but it's similar to Thai curries and soups in that it uses coconut milk as a base, with roasted pepper paste and Thai fish sauce, as well of the lime.
I used a whole lime, zesting the rind and then peeling away the bitter white inner pith before chopping up the juicy flesh. If you need the vitamin C, use the white part too, as that's where most of the goodness lies. It looks like a lot of ingredients, but this is easy to make. I find it almost addictive—the lime is intense, its slight bitter quality offset by the sweetness of the coconut and the corn. A one-dish dinner. We eat it with bean sprouts, lightly steamed, but it would be terrific with black or brown rice or quinoa.
Ingredients
1.5 lb chicken, skinned, boned and cut into bite-size pieces
1 tin coconut milk plus 1 tin water, or 2 tins "lite" coconut milk
1 lime, zested, and chopped without the white pith
1 jalpeno pepper, deseeded with pith discarded, minced
3 cloves garlic
2 inches ginger, fresh, peeled and chopped
a handful of parsley, chopped
juice of 1 orange
1 tbsp red Thai chili paste, medium or mild
2 tbsp sugar
1 tbsp Thai fish sauce
1 large potato, peeled and diced large
2 zucchini
2 ears corn, shucked (available now all year round, amazingly)
1 cup snow peas
Put into the blender the coconut milk, garlic, ginger, jalapeno pepper, and the lime zest and pieces of lime. Whiz at top speed until everything is mush. Strain into a large saucepan. Heat until the mixture comes to a boil, and add the cut-up chicken pieces and the potato. Simmer for 30 minutes or until chicken and potato are cooked.
Add the corn niblets. Heat for another five minutes, then add the snow peas and cook another minute, or just until the snow peas are heated through—don't let it boil now or they will go that dull green instead of fresh pea colour.
Take a ladle full of the liquid and put it back into the blender with the parsley, roughly chopped. Whiz until the parsley is all mulched very fine. Put the liquid back into the pot—this will give the dish a vibrant green colour which, if you put the parsley in and cook for more than five minutes, will fade to pale green—which is also okay, but the bright green is more limelike.
Serve over rice or bean sprouts, in a bowl, with spoon as well as fork. Garnish if you like with lime quarters for squeezing and avocado slices or pumpkin seeds lightly toasted.
Lorna's Lovely Lemon Loaf
My mother made this often when we were kids, having borrowed the recipe from Lorna Hand, our next-door neighbour. It's a cinch to make, packs easily as chunky loaf slices into lunchboxes but is also, sliced thinly on a tea plate, an elegant addition to casual get-togethers. I used ½ cup whole wheat organic flour from Wolfgang's Grain and Flour, a new addition to the Thursday Community Market at the Revelstoke Community Centre. This is truly a delicious easy bake loaf.
Preheat oven to 350 F.
Ingredients
½ cup butter at room temp or melted slightly in a pan or the micro
1 cup sugar
2 eggs
grated rind of 1 whole lemon
juice of ½ a lemon
1 tsp vanilla
1 ½ cups flour
1 tsp baking powder
½ cup milk.
In a bowl, combine butter and sugar; add eggs and beat until smooth. Add lemon zest, juice and vanilla. Combine in another bowl the flour and baking powder. Add the flour and the milk alternately to the egg-sugar-butter bowl, beating well after each addition.
Pour into a loaf pan lined with tin foil and buttered lightly. Bake 1 hour.
While still hot, make a syrup with ¼ cup sugar and the juice of the other half of the lemon, and drizzle over the loaf. Let cool in the pan. You can remove the foil once the loaf is cool, or use it to store the loaf in a cool place. Slice and serve.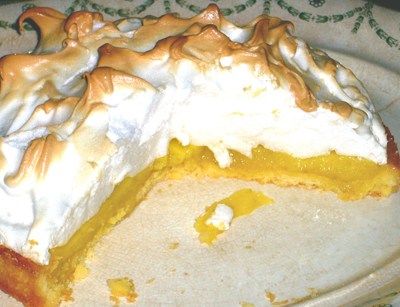 Lime Meringue Tart
An elegant yummy dessert. This was a hit on Saturday at a potluck firepit party on Railway Hill—even the children and teens liked it, to my surprise, as the flavour is very intensely lime. This recipe uses a shortbread crust that doesn't need rolling out — my rolling pin was downstairs covered with clay for the pottery project I'm doing.  You could make a richer lime curd by using 8 egg yolks instead of 4 plus cornstarch, but I'm making a pathetic attempt at heartsmart cookery, so stopped with the 4 eggs—which also appeals to my innate miserliness, as you use the egg whites for the meringue, but 8 would be way too many and they'd be wasted. You need a 10" pie plate, preferably with a removeable rim.
Ingredients
Shortcrust pastry
1 ¼ cups all-purpose flour
1/3  cup sugar
1 tsp grated lime zest
¼ tsp salt
½ cup unsalted butter
1 large egg yolk and half the white
1 egg for brushing the crust to seal it
Lime pie filling
1 ¼ cups sugar
1/3 cup cornstarch
1 cup fresh lime juice
1 cup water
grated zest of 2 large (2 inch diameter) limes
4 egg yolks
¼ cup butter
Meringue
4 egg whites
¼ tsp Cream of Tartar
½ cup fine sugar
1 tsp vanilla
Make the shortbread crust
Preheat the oven to 425 F.
Put all the ingredients into a food processor and pulse for about a minute, until the dough begins to hold together. If you don't use a food processor, do this in a bowl, and stir and combine the butter and flour and sugar into pea sized bits before adding the egg. Turn out onto a board and shape into a ball. Let rest for ½ hour in the fridge if possible — otherwise, use right away. Pat and press the dough into the pie plate or springform pan. Try to make it come about an inch up the sides, and keep it as uniformly thick as you can.
Prick the pie crust all over with a fork. Bake for about 20 minutes. As soon as it comes out of the oven, a pale tan colour all over, brush the crust with the beaten egg plus leftover egg white. Then pop it back into the hot oven for two minutes. The egg seals the crust and prevents the filling from making it mushy.
Make the filling
Use a largish saucepan and a big wire whisk. Put all the ingredients into the pan except the butter, and bring to a slow boil as you whisk continually, making sure to eliminate all lumps. Remove from the heat and beat in the butter, still whisking. This sounds arduous but is easy. Bring the whole mixture now to a boil, and cook stirring all the time with a wooden spoon for one minute. Then remove from the heat and gently pour the filling into the prepared crust.
Top with meringue
While the filling cools slightly, make a meringue by beating with an electric beater the 4 egg whites, sugar and cream of tartar. Add the vanilla. The peaks of the beaten eggs should be high, stiff and glossy. The shape should hold when you remove the beaters. Now ladle the meringue onto the pie, and smooth with a spatula so the meringue comes right down to touch the edges of the crust.
Bake in a 325F oven for 20 minutes, or until the meringue peaks are a nice soft brown.
Serve at room temperature. Best eaten the same day.