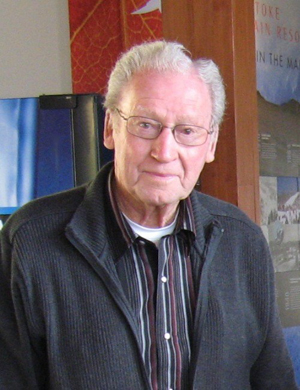 It is with sadness that we announce the sudden passing of our father, husband, grandfather, father-in-law and friend Steve O'Reilly.  Steve passed away on November 2nd, 2010 at the Shuswap Lake General Hospital in Salmon Arm while recovering from surgery.  He was 81 years old.
Steve was born on December 26th, 1928 in Sydney, Australia.  As a boy he was an avid athlete and enjoyed cricket, rowing, and as with all Aussie boys, especially rugby.  It was in Australia where Steve took his apprenticeship and learned his trade as a Carpenter and Joiner, excelling in his schooling and eventually gaining the highest marks in the nation for drafting.  As all good Apprentices, Steve never forgot his "master" Rupert and would comment, while working, about how and what Rupert taught him, aiming to carry on the skill of the Master. To those who knew Steve and his work he was a true old world Craftsman.
Steve left Australia in 1951 with the plan to travel around the world when he landed in Victoria. It was here that he met Joyce, who was visiting from Edmonton, and who would become his wife of 54 years.  They initially moved to Edmonton, however after several trips between Sydney and Edmonton, Steve and Joyce finally settled in Ft. Saskatchewan, Alberta.  Steve spent the next 20 years working at Sherritt-Gordon as a carpenter eventually rising to the position of foreman of the Carpenter Shop.  It was here they raised their four children, Mary-Ellen, Anne-Marie, Laura-Lynn and Glen.
Steve's feet may have been in Canada but his heart was in Australia.  He would talk for hours, to anyone who would listen, about "back home" and would always say "the man from down-under is always on top."  He had longed to go back for one last visit to see his brother Brian and sister Betty.
Steve retired to Revelstoke in 1987 so he and Joyce could be closer to the growing brood of grandchildren.  Although retired he was not finished working and took on numerous construction and renovation projects in town, becoming well known within the community.  He also used his skills to repair antique furniture for his in-laws antique store and eventually honed his skill in wood turning.
Steve was a fixture at the Saturday morning Farmer's Marker in Grizzly Plaza for the past 13 years.  It's here with his bright smile and beautiful turned wooden bowls that he is best known and remembered.  His bowls were literally sought after by locals and tourists alike, with the demand for his bowls keeping him busy in his shop for several hours every day.  It is safe to say that his bowls grace numerous homes in Revelstoke and were popular as wedding gifts.  To the tourists his bowls represented an authentic piece of Revelstoke and these little pieces of art are now literally scattered around the world.
Steve's passing has left a hole in the community and a hole in our hearts, he will be missed.
Steve is survived by his wife Joyce, his four children, ten grandchildren and six great grandchildren.  At Steve's request he was cremated with no service.