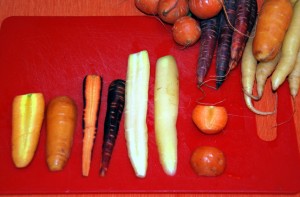 RECIPES
Harvest Veggie Grilled Salad with Sausage, Croutons and Lime Vinaigrette
Lentils and Braised Vegetables in Red Wine Sauce
Harvest Veggie Grilled Salad with Sausage, Croutons and Lime Vinaigrette
I took this to the NCES Harvest Festival potluck lunch at the United Church on October 9, and people asked me for the recipe, so here it is. You can use any harvest veggies in this one-dish dinner. The colour is a big part of the appeal, so use yellow, red and orange peppers, orange squash, sweet potatoes and golden beets if possible. I like Italian sausage, but you could use any other, or grilled shrimp, chicken, or fish—or left-over turkey.
This dish takes some organization to put together, but once done, it's a whole meal, and can be served either hot or at room temperature. The quantities below work for about 20 people. The trick is to make sure all the veg are cooked but not overdone, so parboil the potatoes, squash, beets, or other root or very tough veggie before grilling. You can oven-grill or do it on the BBQ. I used a nifty basket griller sold at Chantilly Kitchen and Bath—it makes grilling a lot of small pieces much easier. Just make sure the pieces are a little larger than bite-size, or they fall through the grill. The tomatoes, though, must be roasted in the oven, and you might feel that since you've got the oven on anyway, you may just as well pan roast all the rest.
Grilled Salad
12 sausages—preferably Italian
36 grape or Campari tomatoes
4 zucchini squash, cut into 12 pieces each (1 lengthwise cut and six crosswise)
4 red, green, orange and yellow peppers, cut into squares a little larger than 1 inch
2 golden beets
8 small red potatoes
¾  loaf bread  cut into chunks, (about 6 cups) crusts on
Marinade and Vinaigrette
8 tbsp olive oil
juice of 6 large ripe limes—1/2 cup.
1 tsp Maletti balsamic vinegar
1 tsp. Calamandine balsamic
2 tsp citrus-basil salt
Garnish
1 onion, or 4 scallions, chopped small
1/2 cup fresh basil leaves, minced
1/2 cup parsley, minced
Wash all veg Cut all veg into largish bite-size pieces.
Make a vinaigrette of the olive oil, balsamics, lime juice, and citrus salt. Divide this in half, one part for pre-cooking marinade, the other as a vinaigrette just before serving.
Into a large sauce pan, bring 4 cups of water, the beets and the potatoes to a boil; cook for 20 minutes or until you can pierce the potato chunks with a fork. Drain. Put into a large bowl and mix well half the quantities of the oil, vinegar and citrus salt. Roll the bread chunks and the vegetables, including the parboiled ones, in the vinaigrette.
Rub with ordinary vegetable oil 4 shallow baking pans or cookie sheets, or light the BBQ and use a veg grill basket, to grill the veg at 425 F until they are just beginning to brown, and are tender throughout. This will take anywhere from 15 to 30 minutes for different ingredients. For convenience,  use a different roasting tray for fast/slow-cooking veg. The croutons can be grilled in the oven the same way, but just for 10 minutes, with one turn. (Under NO circumstances should you use commercial croutons here—they need to be big, chunky, crusty and fresh.)
While the veggies are grilling, cook the sausages in a frying pan over medium heat, turning frequently, for about 20 minutes or until nicely browned. Remove and cool.  Slice diagonally into 3-4 pieces each sausage; return to pan and continue browning for another ten minutes over low heat. Adding a tablespoon of water to the pan every once in a while stops the pan from burning as the sausages brown (a trick I learned from watching fast-food operators.) At the same time, put croutons onto a cookie sheet and grill at 425 F for 10 minutes, turning once.
If you use mushrooms, clean, stem and half them, then fry in 2 tbsp. butter at medium heat until brown on two sides.
Let everything cool for 20-30 minutes. Put all the veg, the croutons and the sausages onto a large platter. Don't use a bowl—everything will go mushy instead of staying a little crispy on the outside.
Sprinkle with chopped onion or scallions, basil and parsley. Add salt and pepper to taste, and drizzle with remaining vinaigrette. Serve warm or at room temperature.
Options:  use squash, peeled and cubed; sweet potatoes; carrots; celery; rutabaga; turnip—the recipe is versatile. Mushroom are a great addition. Directions are given for the veg in the recipe above; if you use others, your judgement and tongue will tell you how much cooking is needed for each.
Braised Veggies with Red Wine Sauce and Lentils
This is a festive vegetarian party dish for 6 people, a real terroir dining experience that reflects local flavours completely, especially if you use and serve it with an Okanagan red wine or local ale. It takes some time to prep, but the results are spectacular. The wine sauce is sumptuous, and I guarantee even the most avid meat-eaters will be satisfied with the combination of braised roots, lentils, and sauce, especially if you serve it with mashed or smashed potatoes,, or wild rice, or the black Italian nutty rice from Crescendo.
The inspiration came from Deborah Madison's book Local Flavors: Cooking and Eating from America's Farmer's Markets. I've simplified the process and changed some of the ingredients to fit what's available in Revelstoke.
You make the wine sauce first, as it's the braising ingredient for the veggies. If you're doing this for a party, I recommend making the sauce the day before to cut down on the workload. Serve this with one of your own homemade wines from Joel and Kristi's Revelstoke U-Brew—a deep-bodied Shiraz will be perfect—and use the same wine in the sauce as you serve with dinner. Alternatively, you could serve a strong dark ale—Tall Timber from the Mount Begbie Brewing Co.  But use a red wine for the sauce—a decent one. It doesn't have to cost the earth, but avoid anything labeled "cooking wine" from a grocery store.  The alcohol mostly evaporates, leaving a flavour that cannot be equaled by any of the sauces one might be tempted to use here such as soy or heaven forbid Worcestershire.
If you want another veg to make this work for a crowd, try the Turnip and Apple Gratin with Cream from last February. A salad of Wildflight Farm's tatsoi or corn salad with slivers of beetroot and apple, and goat feta, drizzled with olive oil and Star Apple Balsamic, would be a fine companion piece. A nice sharp chutney is good with this—mango chutney from Pam's Kitchen, or some pickles, and a fresh baguette or loaf of olive bread. Serve with red wine or a dark ale. For dessert, a lemon gelato or lime meringue tart (see last week) would nicely offset the rich earthiness of this dinner, and a cheese plate beforehand with some of the wonderful Quebec cheeses from Sonia's La Baguette would add a touch of sophistication to what is otherwise a very homey dinner. For a very special occasion, try a sorbet in between courses—a plain vanilla gelato with 2 tsp of Pistachio Oil from Crescendo on top, served in a liqueur glass and eaten with a coffee spoon.
Red Wine Sauce
4-5 dried mushrooms, preferably porcini
4 cups boiling water
1 tbsp olive oil
1 large red onion
1 large carrot, diced
2 large sticks celery, diced
4-6 cloves of garlic (about 2 tbsp)  chopped
2 branches thyme, 1 branch oregano, 1 sprig rosemary or 1 tsp dried thyme and oregano and ½ tsp dried rosemary
1 tbsp tomato paste or 3 sun-dried tomato pieces, minced
2 tbsp all-purpose flour
2 cups good red wine
sea salt and freshly ground black pepper
1 tbsp Maletti balsamic vinegar
1 tbsp butter
Soak the dried mushrooms in the boiling water for 1 hour.
Sauté the onion, garlic, carrot and celery in the olive oil to make a soffrito (that's the Italian word for this mixture, a staple in European cookery.) You don't need to peel the onion or garlic, as they will be strained out of the sauce.
Stir the flour and tomato paste into the soffrito. Continue to sauté for 2-3 minutes then add the red wine, half a cup at a time, stirring vigorously after each addition. Add the dried mushrooms and their liquid, then add the herbs, and salt and pepper. Simmer uncovered for about 40 minutes. Remove from the heat, cool a little, and strain into a clean pot. Simmer until reduced to about 3-4 cups. The sauce should be the consistency of cream, with a lovely aroma. Add the Maletti Balsamic vinegar and 1 tbsp butter, and store in a mason jar in the fridge until ready to use.
Braised Veggies
2 large red onions, peeled and quartered or 24 shallots
6 carrots—most fun if you can get purple and white as well as orange, peeled and quartered
6 parsnips, peeled and quartered
2 cups any of: turnip, rutabaga, celery root, fennel, leek, yam, sweet potato, squash, peeled and cut into pieces roughly 2 inches long and 1 inch wide
6-12 large mushrooms
3 tbsp olive oil
1 bay leaf, 2 thyme branches, ½ tsp minced rosemary, 1 tsp minced oregano
3 cloves of garlic chopped with 3 tbsp parsley
1 cup red wine sauce
1 cup water or red wine
Heat oven to 400 F.
In a wide flat ovenproof casserole or baking dish, heat the olive oil and sauté in it the veggies until the sides show a little brown, turning all the time to distribute the veg evenly in the pan.
Pour in the water or red wine and 1 cup of the red wine sauce. Add the herbs and garlic. Braise in the oven for 30-40 minutes, or until all the veg are cooked. Add more water if necessary. In the end, there should be ½ to 1 cup of sauce left in the pot, and the veggies should be nicely browned on top.
Lentils
1 cup lentils
2 cups water
1 lemon, sliced
1 onion, diced finely
1 tsp salt
1 cup red wine sauce
Rinse and clean 1 cup of green or brown lentils (the red ones are too small for this.) Discard any stones or wrinkled shells. Put in a large pot with the diced onion and the lemon slices. Bring to a boil, then turn down the heat to let the lentils simmer for 40 minutes or until tender, adding more water if needed. Drain and remove lemon slices. Clean the pot and return the lentils to the heat with the red wine sauce. Heat and serve.
Assemble: serve with mashed potatoes or brown or (for a special treat) wild black rice. Put some lentils on each plate, and some of the braised veggies, with either rice or mashed potatoes, and pass the red wine sauce for each guest to pour. Serve with salad and baguette, with some cheeses before dessert.