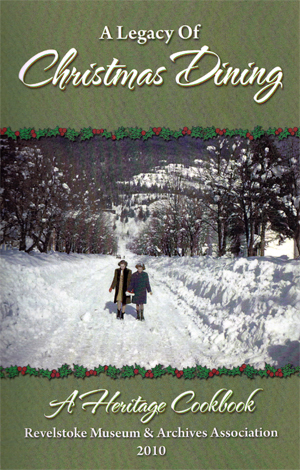 By David F. Rooney
A legacy of Christmas Dining is a lovely volume of delicious recipes contributed by people from all over to the Revelstoke Museum & Archives Association Cookbook Committee just in time for the holiday season.
These are all family recipes, the kind that have been handed down through the generations. As such, they've passed the tests of time and the taste buds of countless children and parents.
Illustrated with Christmasy images and punctuated with old Christmas shopping ads from the old Revelstoke Herald and Revelstoke Review, the book has eight chapters — Giftables, Cookie Exchange, Christmas Morning, Appetizers & Beverages, Soups & Salads, Main Dishes, Desserts and Left Overs.
Giftables includes the recipes for things you can make and give to those nearest and dearest to you — hand lotion, spiced tea mix, cakey brownie mix and no-sew gift bags. The others are pretty self-explanatory and reading the recipes while flipping through their pages is bound to have you salivating in no time, particularly if you have already enjoyed some of them at local homes.
Have a hankering for Sandra Rourke's cranberry oatmeal white chocolate cookies or Ruby Nobbs' refrigerator cookies? You can find them in here. Don;t know how to roast a turkey? This cookbook has a a fantastic recipe for roast turkey with sausage stuffing by Una McInnes. And left overs? There are several distinct and interesting recipes for dealing with all that left over bird or ham.
A Legacy of Christmas Dining should delight everyone who enjoys good food and the authentic taste of Revelstoke. It is available at the museum.
A Legacy of Christmas Dining, by the Revelstoke Museum & Archives Association Cookbook Committee, printed by Rasmussen Company, Winnipeg, 140 pages, $14.