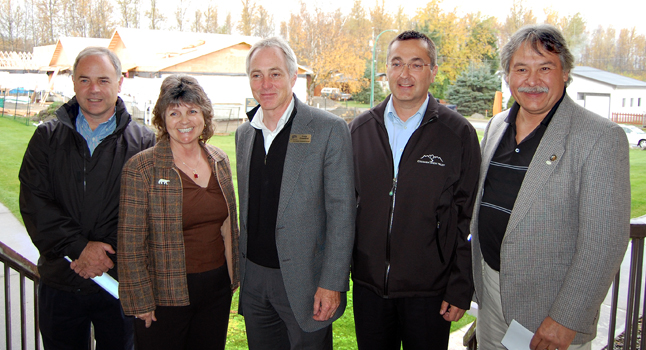 By David F. Rooney
Representatives from the Revelstoke Seniors' Housing Society, City, the Columbia Basin Trust and the province gathered at Mount Begbie Manor on Friday to mark the virtual completion of the new affordable housing units for seniors.
"We thought about, talked about, dreamed about it and now we are here," said Seniors' Housing Society Chairwoman Pam Doyle.
Mount Begbie Villas, as the new units are being called, are factory-built modular homes transported to Revelstoke and placed on prepared foundations on site. These units are grouped into two eight-plex townhome style clusters.
In addition, work has begn at Moberly Manor. There, an additional eight units are being constructed on the site of the original wing that was torn down last year. It will complete the development of the Moberly Manor seniors' campus.
Doyle said the one-bedroom units at Mount Begbie can house either single seniors or couples who are still independent.
"I want to thank MP Abbott, the provincial government and the Columbia Basin Trust for their contributions to this important project for the City of Revelstoke," Mayor David Raven said at the ceremony at Mount Begbie Manor. "Providing safe, affordable housing for the seniors in this community is important to Council and our residents.  I am excited to see these great projects move forward."
For his part, CBT Chairman Garry Merkel said affordable housing is one of the major issues facing communities in the Basin today.
"One of our goals is to assist communities in dealing with affordable housing issues, and in particular to support new housing initiatives," he said. "This is a unique opportunity for CBT to be involved, not only in creation of  24 units here in Revelstoke, but in the creation of a significant number of housing units Basin-wide, and increasing senior's housing throughout the region is something that we are really pleased to be part of."
Columbia Basin Trust has committed $425,000 to the overall capital costs of seven sites in the Columbia Basin region for a total of 114 units under the Senior's Rental Housing (SRH) initiative.  Projects are being built in Cranbrook, Kimberley, Creston, Baynes Lake, Golden, Revelstoke and Valemount.
The Seniors' Rental Housing (SRH) initiative is a result of a $365-million joint investment under an amendment to the Canada-British Columbia Affordable Housing Initiative Agreement, which includes funding through Canada's Economic Action Plan and by the Government of British Columbia.
This initiative, initially announced by the two levels of government on April 8, 2009, will provide $123.5 million, including $104 million for seniors and $19.5 million for persons with disabilities, to develop approximately 1,300 new affordable rental housing units, which will help to stimulate local economies in smaller communities across B.C. Under terms of the agreement, the provincial and federal governments will provide matching contributions of $61.79 million.
To mark this important affordable housing initiative, The Current is pleased to present a special photo feature. Local resident Melanie Melnyk chronicled the building of Mount Begbie Villas and captured 280 images of the work in progress. We have selected some of her best images (Thank you, Melanie!) to show you how it all came together. Enjoy: