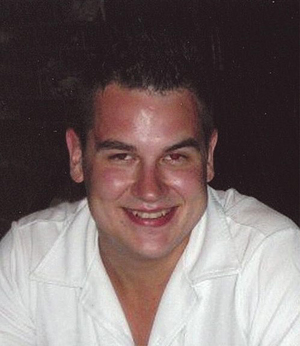 James Patrick (Jimmy Jr.) Armillotta died suddenly near Bonnyville, Alberta on Thursday, October 14, 2010, at the age of 27 years.  A Funeral Service will be held at the Mountain View School gymnasium on Saturday afternoon, October 23, at 2:00 p.m. with Pastor Dave Olson officiating.  Pallbearers are: Nick Chipman, Wade Clark, Tony Costa, Waylon Deverall, Mat McKay, Jacob Powell, Travis van Goor and Tyler van Goor.  Honorary pallbearers are: Olaf Brensrud, Dan Chipman, Roy Laurence, Dylan Maltby, Charlie McLellan, Shea Mollerud, Kent Skalicky and Jason Towns.  Cremation will follow the service.  In lieu of flowers, memorial contributions may be made to the Alzheimer Society of B.C., Suite 300, 828 West 8th Avenue, Vancouver, B.C. V5Z 1E2, in memory of Jimmy.
Jimmy was born in New Westminster, B.C. on April 26, 1983 and had been a resident of Revelstoke for the past 20 years.  He was a fun, outgoing generous man who lived to help others.  Jimmy spent countless hours reading side by side with his mom, fishing, playing baseball and hockey, cooking and taking over any barbeque he was around.  His joyful personality made him a natural pick for emcee at his friend's weddings.  Jimmy had an infectious laugh that made any bad situation turn into a good one.  He was a kind and gentle soul who will be missed by all.
Jimmy was predeceased by his grandfather Andrew Baloc, grandmother Charlotte Baloc on the same day as Jimmy passed away, and an aunt Susan Itterman.  He is survived by his parents Brenda and Jim, brother Joe and sister Jeanine; his dogs Teddy and Quila; grandparents Joseph and Shirley Armillotta; aunts and uncles: Gregory (Marion), Peter, Ann Marie (Dell); Shirley, Carol, Mike, Bill, David, Pat, Donny and Gregory Baloc and uncle Joe St. Luke; special cousins Brandon, Jason and Angelo, as well as numerous other cousins and countless good friends.
Arrangements are in the care of Brandon Bowers Funeral Home, Revelstoke.