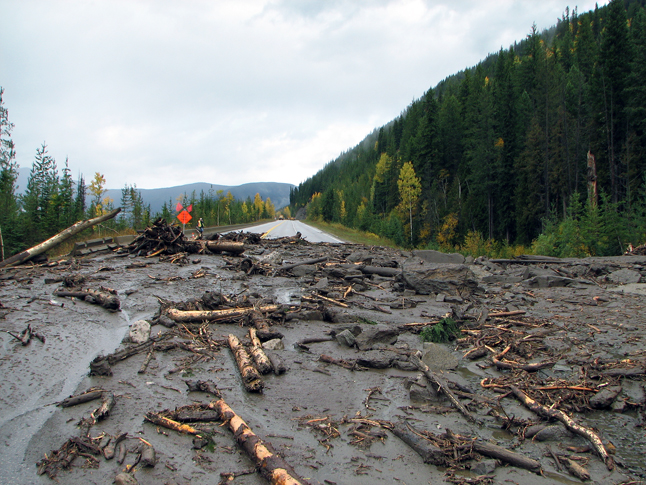 GLACIER NATIONAL PARK — The Trans-Canada Highway will re-open at 5 pm today (Tuesday, September 28).
The highway had been closed at Revelstoke and Golden because of a mudslide that happened at approximately 10:30 am near the Heather Hill on the east boundary of Glacier National Park.
"The slide was a result of heavy rain causing mud, trees, rock and debris to flow down the mountainside and over the Trans-Canada Highway," Parks Canada spokeswoman Jacolyn Daniluck said in a statement.
"The new slide is an estimated 1,000 cubic meters and is near a previous unstable slope – the 2007 East Gate Slide area where catchment basins were constructed to intercept the flows; however, this new slide is not related the 2007 slide."
No persons or vehicles were caught in the slide. Geo-technicians have assessed the stability of the slide area and Parks Canada anticipates that the highway will re-open by 5 pm. Travellers will be advised to drive cautiously and be prepared for further clean-up today and through Wednesday.
For more travel information, visit the Drive BC website at www.drivebc.ca.