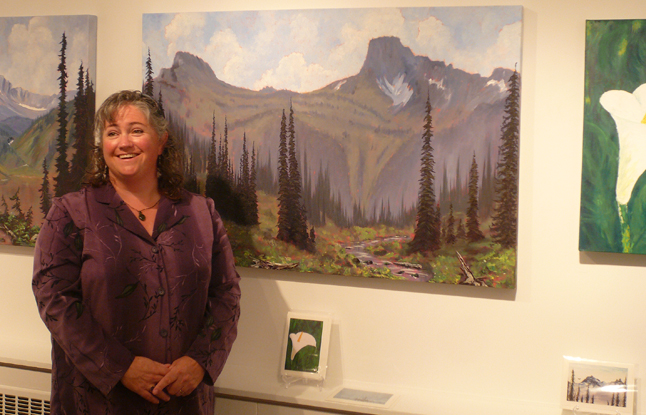 By Chrissi Meyer
After two years in Revelstoke Sue Davies and her family are going back to New Zealand. Sue is a painter and she has been part of the local art and culture community here in Revelstoke.
"I have had a fantastic two years here in Revelstoke but it is time to return to New Zealand and settle down," she said.
Now that she is heading home, she is keen to sell many of her paintings. Sue is exhibiting her works at the Revelstoke Visual Art Centre in conjunction with the new exhibition, BC 150 Applied Arts Project.  Both exhibitions open this Friday night (3rd September) at 6pm and run until the 24th of September.
Most of Sue`s paintings are oil on canvas but there are also a few watercolours, prints, and art cards for sale. Many paintings reflect Canada´s awesome landscape; several show scenes directly around Revelstoke and others were painted up in the Yukon where Sue and her family spent their first Canadian summer before coming to Revelstoke.
The Davies will leave Revelstoke at the beginning of October so if you are interested in buying one of her paintings come to the opening on Friday night (September 3). Sue will be there to chat or answer any questions about her art. She can also be contacted at philsue1@gmail.com.