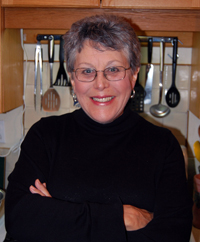 The salmon leapt two feet in the air all around us everywhere from the Vancouver Approach Bell to Ganges Harbour on Saltpring last week, in what we all now know is the best salmon run since 1913. And seals galore, splashing and cavorting in what we take to be a feast for all fish-eating creatures of the coast.
In Coal Harbour, right in the centre of Vancouver Harbour, a mama seal gave birth to a baby, and both parents hung about for a while—we even had one in our dinghy. An orphaned seal will apparently attach to a rubber dinghy in a woefully mistaken belief that the dinghy will provide seal milk.
I had planned a flurry of salmon recipes, but returned to Revvie and the Internet world to learn about my revered editor's heart attack two weeks ago—the day we left for Vancouver. Hence I've tried to find heart-smart salmon recipes, as David's event is a reminder that we all might do well to cut back on fats. None of the recipes below involve oil, butter or cream. The fish truck will be back in Revelstoke this week, so look for salmon and enjoy these lean cuisine treats.
Cooper's and South Side also are featuring fresh salmon—but don't be put off by frozen fish if it's Canadian and frozen at sea—some fishers we know will eat nothing else, other than their own catch of the day.
These recipes are variations on old favorites. The chowder uses coconut milk to achieve flavour and a creamy consistency. The rotini takes advantage of the fresh tomatoes of late summer. The most unusual is the very simplest way ever of cooking salmon: over a bed of salt. It's easy, quick, and very very good.
Salmon Coconut Chowder
4 servings as mains, up to 8 as starters or lunch.
A great way to stretch a little salmon for a lot of people, or to use up salmon leftovers, deliciously. This dish is inspired by the curries of India and Thailand, and uses Thai curry paste for flavouring, as well as "lite" coconut milk rather than cream for a relatively low-fat but creamy chowder consistency.  You can prepare the broth well in advance, freeze or refrigerate, then reheat and add the salmon at the last minute. For four people, with a loaf of bread, a bottle of Reisling or Sauvignon Blanc—or a 'soft' red like Merlot—or a hoppy ale, and perhaps a little salad—try beetroot over arugula with a little goat cheese, and you have a chowder fit for kings or hungry fishers.
½  lb salmon steak or fillet, or leftover salmon
1 potato, finely sliced
1 yam, finely sliced
1 onion, minced
4 stalks celery, chopped
2 carrots, chopped
1-3 tbsp Thai red curry paste, mild or medium heat (taste after 1 tbsp, add more if desired)
2 400 ml cans "lite" coconut milk
1 can (about 400 ml) clam nectar
3 large cloves garlic, minced
1 tbsp fresh ginger, grated
1 tsp lime zest, fresh
1 tbsp Maletti Balsamic vinegar
1 lime, fresh squeezed for juice (about 2 tbsp)
1 ear corn, shucked and kernelled
1 tbsp brandy or sherry
1 tbsp fresh dill, minced
Chop the onion, garlic, carrot, and celery and sweat them in a large pot with 1 tbsp water for about 5 minutes. Add the chili paste, lime zest, lime juice, and the grated ginger, and stir well, continuing to cook over low heat. Add the clam nectar, coconut milk, and taste—add more chili paste if you want a hotter base. Add the vinegar. Slice the yam and the potato very finely and add. Cook, covered, until the potato is done. Remove from the heat.
Ten minutes before you want to eat, add the salmon, in 1 inch chunks, and the corn kernels. Bring to a boil and turn the heat down, then simmer for about 2 minutes or until the salmon and corn are just cooked. Remove from heat, add brandy or sherry and the chopped dill. If you want fancy, add a dollop of non-fat stirred plain yogurt and a tablespoon of Pam's mango chutney (Saturday market or at Paramjit's Kitchen) to each bowl before serving.
Hurry-up chowder: Use frozen hash browns, frozen onion dice, canned rinsed corn kernels, prepared garlic-ginger mix and a package of Thai red curry paste mix, and put everything in the pot along with the clam nectar and coconut milk. Add the salmon at the last minute. You could use tinned salmon, with skin and bones removed, if fresh isn't available. The result will be okay but perhaps not quite as delectable as the full-on recipe.
Rotini with Salmon in Fresh Tomato Sauce
4-6 people
This is a substantial dish with a big flavour in a  sauce inspired by Dr. Alex Farrugia. Fresh tomatoes get a boost from black olives, as well as from garlic, shallots, Inca salt, a tiny bit of pepper-infused oil and fresh basil. Make the sauce anytime and freeze or can it.  I use a wide, high-sided sauté pan for this, rather than a deep saucepan—this way, the whole thing is done in 15 minutes as the tomatoes cook very quickly.
½ lb salmon
¾  lb. pasta
Fresh Tomato sauce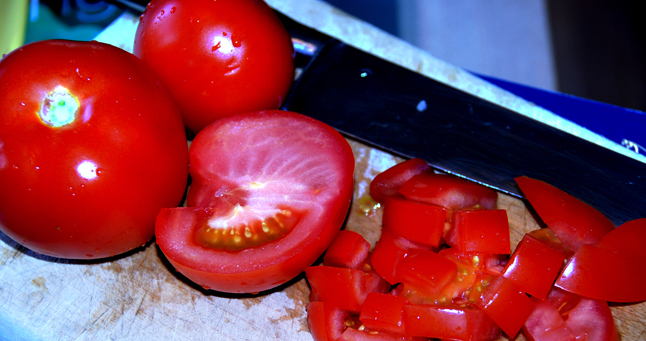 Fresh Tomato Sauce
2 lb fresh tomatoes, chopped
1 large sweet onion, chopped
1 shallot, minced
3 large cloves garlic, minced
1 tsp pepper-infused olive oil
½ cup dry white wine
¼ cup chopped fresh basil
1 small tin black olives, pitted and sliced (optional)
Put everything except the basil and olives into a high sided sauté pan and cook over low heat for about 15 minutes, or until the tomatoes are soft but not soupy. Add the olives and basil at the last minute, with the salmon.
Prepare the salmon.
Remove skin and bones from the salmon and cut into chunks about 2 cm square, more or less. While you wait for the pasta to cook, keep the salmon in a bowl of very cold water.
Pasta
Rotini spirals collect the juice nicely. Cook ¾ lb according to package directions less two minutes.  Drain and rinse under cold water.
Serve
Put the tomato sauce in a big saucepan and heat thoroughly. Add the rotini and the salmon chunks and continue to heat until the sauce is bubbling and the salmon is just cooked. Add the olives and chopped basil. Remove from heat and serve immediately.  You could pass some crumbled feta or parmesan cheese for a light sprinkling, but try this first—unless you're a cheese fanatic it really doesn't need the garnish.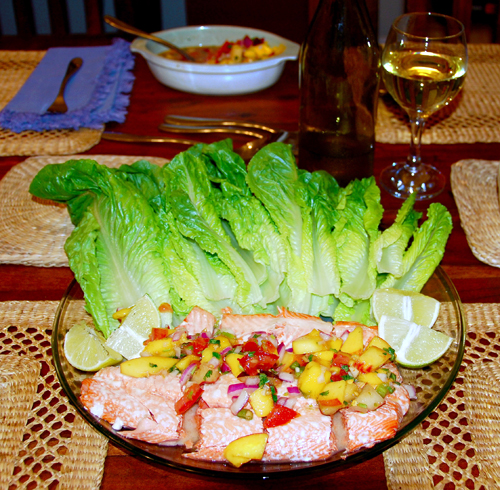 Salt-steamed Salmon Steaks with Stonefruit Balsamic Salsa
4 servings
This recipe for salmon steamed on a bed of salt was published in the yellow-covered 2004 Gourmet Cookbook from a writer named Diane Johnson who found chefs in Paris using this method. It is amazing—no fat, no water: just the heat of the salt under the salmon fillet. The end is a delectable salmon fillet that is tender, moist, and has a tonality of salt without actually tasting salty. The stonefruit salsa is terrific with this. Serve with some lettuce leaves and green beans or asparagus, plus quinoa or rice, if you want carbs. The salsa recipe makes more than you need at once—you can refrigerate for a few days, and eat with chicken, pork or bread and cheese.
1 lb salmon fillet with the skin on
2 cups kosher salt
Put the salt in a wide iron frying pan. Turn on the heat to medium high until you can feel the salt as warm on top. Wash the salmon well and place it, skin side down, in the salt. Cover. Maintain the heat under the pan for about 8 minutes, or until the salmon appears to be done when you put a slim knife into it.
Slide a spatula between the skin and the salmon flesh to remove the fish to a platter—don't get the salt on the fish.
Stonefruit salsa
You could use ordinary vinegar for this, but the new Peach Balsamic from Crescendo gives the salsa a very particular fruity zing.
2 peaches, peeled, stoned and diced
2 plums, stoned and diced
2 nectarines, stoned and diced
2 tomatoes, ripe, diced
1 jalapeno pepper, flesh only, minced
3 cloves garlic, minced
1 small red onion, diced small
1 shallot, minced
1 tsp ground cumin
1 tsp pink salt
½ tsp fresh ground black pepper
juice of 3 limes
zest of 2 limes
2 tbsp Peach Balsamic Vinegar (Crescendo)
1 tbsp Maletti Balsamic Vinegar
1 tsp sugar
½ cup chopped cilantro
Put all the ingredients in a bowl and mix well. Let stand 2 hours. Refrigerate the extra.