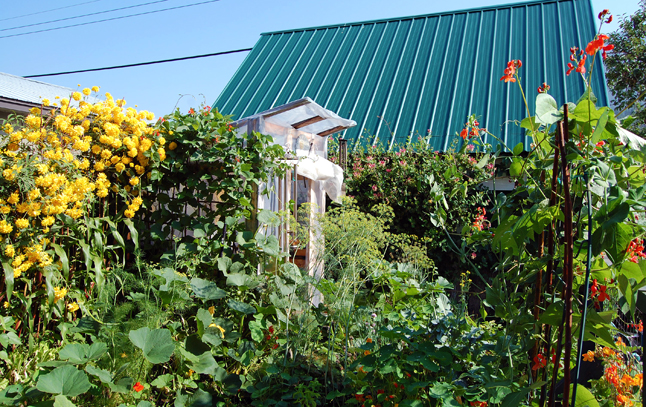 By David F. Rooney
How great was your garden this year? No matter what you thought of your green — or not-so-green — thumb efforts this summer, the fact that you have a garden is worth celebrating.
And the North Columbia Environmental Society is holding a Harvest Palooza at the United Church on Oct. 9 from 1 pm until 4 pm to do just that.
"This is going to be a great celebration of gardens and food with something to interest just about everyone," says NCES President Hailey Ross.
The three-hour event includes workshops, a pie contest, a potluck, agricultural heritage displays, seed exchanges, a special display of wild foods, live music, a clown and — wait for it — apple bobbing.
There will also be a contest to see who has the largest garden vegetable. So, if you've got a 200-kilo pumpkin in your backyard, drag it on down to the church and bring home a prize.
Here's s schedule of the events lined up for your entertainment and edification:
1:30 pm — Canning Workshop;
2:30 pm — Pie Contest (sweet or savory, but local of course!) judged by Revelstoke's culinary leaders;
3:00 pm — Composting Workshop lead by Terra of Terra Firma & Rory Luxmore.  Learn about proper composting to fuel your gardens and keep bears away; and
3:30 pm — Largest garden vegetable contest.
Activities running throughout the day include:
Local foods potluck. Guests are encouraged to contribute a potluck item featuring their favourite local food.  Revelstoke's culinary leaders (including La Baguette, Mountain Meals, the Woolsey, The Modern and Clayoquot Botanicals) will showcase their favourite seasonal dishes for all to enjoy;
Live  music;
Agricultural Heritage. Displays of photos and artifacts from the Revelstoke Museum and Archives and activities such as butter churning;
Wild foods. Samples and artistic displays of wild foods and the incredible places they come from;
Seed exchange table. Bring your extra seeds and trade them for other seeds. Collect seed storage tips for the winter; and
Apple bobbing.
Admission will be by donation. What's a good amount? How about $5.
To see the official Harvest Palooza poster please click here.