By David F. Rooney
Cherie Van Overbeke's show at the Visual Arts Centre on Friday may be called Arriving, but as a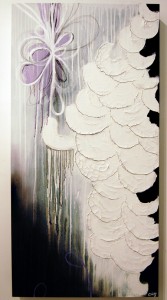 painter she is definitely here and now.
Her exhibition, one of three opening on Friday evening, is an abstractionist's delight: 12 canvases that express how she feels about the changes her life has gone through in recent years.
Van Overbeke has, since she first walked into The Centre with a large — and very bright — painting of a pineapple, been an eye-catching artist. Her works, typically are large and visually explosive. These 12 works are different. They are not representational, as so many of Van Overbeke's works have been in the past, and have a much cooler — almost detached — feeling about them, even as they incorporate strong organic and physical sensations.
"I felt as though I have been arriving at some conclusion — whether it is to an end of a beginning of a phase in my life I am not sure," she said, adding that she regards these works "as a dialogue between the materials I have chosen to use."
Van Overbeke, who works out of a studio in The Centre, said the "elements of movement, texture and gravity are very apparent in these works. Most of the shapes are quite ambiguous but they are all symbolic of something or someone who has affected my life."
That's heady stuff.
The exhibition opens on Friday, October 1, at 6 pm.