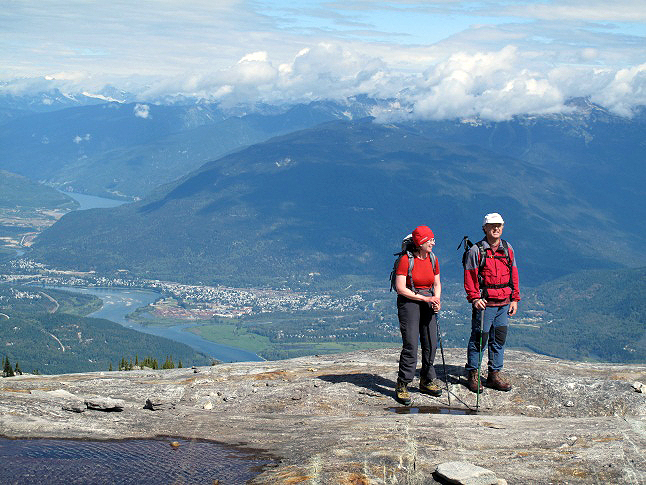 By Laura Stovel
Mount Begbie still offers spectacular hiking at this time of the year.
The lupins, Indian paintbrushes and valerian are still out and a good supply of huckleberries are a welcome site at the first bench. The hike demands a good level of fitness, though, especially strong knees for the downward stretch.
According to Paul Salva, who blazed the trail with Bud Stovel back in the early 1950s, "It was never a planned trail. It was a way of getting up as quickly as possible. So it was a pretty direct route really."
Bud adds, "We had a long fall and the buds were out on the rhododendrons. That's what we used to call 'snow brush'. So we were able to work right into November. We axed the trail out. In the early part there were two wide bands of hemlock. So thick we could hardly walk through it. All we had was little hatchet and a small handsaw."
"Once we got beyond the two bands we hiked straight up until we reached the top of the first ridge. So we didn't locate any more trail. We just walked over the ridge, which was good walking. The last part of the trail going up over steep part became the basis of the new trail. It ended up in small glades of meadow. Then we followed a creek and walked over rock that had large chunks of tourmaline in it. Once we were on top of the solid rock we were below the glacier."
"A very nice diversion was heading off to the right and to the lakes behind Begbie," Bud said. "That to me is the real thrill of the hike, not the peak itself.
"Eventually Chick Sharp, when he had his school, hacked out a trail on the meadow" around the lakes. That had the advantage of keeping people to the trail."
Here are some shots of people hiking on Begbie last weekend… and 50 years ago: