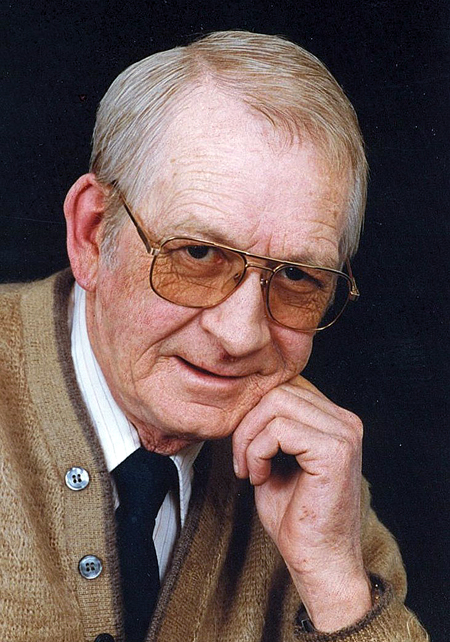 Kenneth Conrad (Ken) Bjorge passed away at Queen Victoria Hospital, Revelstoke on Saturday, August 7, 2010 at the age of 80 years.  A Memorial Service will be held at the Revelstoke Alliance Church on Thursday afternoon, August 12th at 1:30 p.m. with Pastor Lewis Hauer officiating.  Cremation with interment of the cremated remains to follow the service in Mountain View Cemetery, Revelstoke.  In lieu of flowers, memorial contributions may be made to a Special Fund for Ken's grandchildren c/o the Revelstoke Credit Union.
Ken was born in Donalda, Alberta, on October 5, 1929 and had been a resident of Revelstoke since 1970.  He enjoyed spending time with his family and loved to share his old stories.  Providing for his family was Ken's focus in life.
Ken was predeceased by his first wife Katie in 1988 and by two brothers and two sisters.  He is survived by his wife Barb of Revelstoke; children: Valerie (John) Schatz of Pebble Beach, California, Vince (Beth) Bjorge of Salinas, California, Kathy (Jay) Hunter of Revelstoke, Matthew Bjorge of Revelstoke, Amber (Jamie) Aarts of Abbotsford, Danny Duke of Kelowna, Bethany Duke (Eddie Deverall) of Abbotsford and Melissa Duke of Fort St. John; 15 grandchildren: Angela & Kalei Duke, Jason & Randy Hunter, Allan & Aaron Bjorge, Kelsey, Keira, Kassidy & Kourtney Aarts, Justin Smith, Magan, Brittany, Aaron & Brendan Duke as well as numerous nieces and nephews.
Arrangements are in the care of Brandon Bowers Funeral Home, Revelstoke.