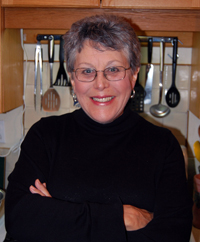 Food in Italy is the best in the world. It was, after all, Catherine de Medici who taught the French courts how to cook.  The secret is partly in the kitchen, but mainly in the fields, the shops and the attitude to food. At the local greengrocer in Asolo, a small town an hour inland from Venice, the question, as we chose a melon: "And when will you eat the melone, signora — today or tomorrow?"
It was today, and it was ripe to perfection — fragrant with the smell of the sun and the earth as well as its own melony perfume, sweet but not cloyingly so, cool and warm all at once, with a juiciness that's thirst-quenching as nothing else can be. We seldom see melons like this in Canada, unless maybe you grow your own.
Not for nothing is Italy also the home of "Slow Food" (www.slowfood.com). There we were, lunching with gusto at a café near Venice's fish market. As usual, I finished first, as my beloved savours his coffee on a schedule known only to the gods. I asked in halting Italian for the bill. The waiter threw his arms in the air and waved them about. (Really, he did.) "Hey, signora," he said in heavily indignant but otherwise fluent English, "Let the man drink his coffee in peace! You're on vacazione! Relax. Siddown for a liddle while. Take it eazzzy." It was at least an hour before the bill appeared.
The lunch was pure simplicity. A plate of prawns in olive oil and lemon juice. A caprese salad of ripe tomatoes with basil and buffalo mozzarella. A tuna salad, a basket of foccacia and a glass of Proseco, the local wine. The prawns from the fish market we had just visited, peeled and beheaded and lightly steamed (later we would watch our 9-year-old grandson confront huge, whole unshelled whiskery critters) were crunchy and tasting of salt sea winds, touched by olive oil and quite a lot of lemon juice. Nothing else.
My caprese was equally artless — some arugula, nutty and a little bitter, with its aroma of fresh fields and  pinecones. Large quarters of ripe tomatoes, sweet and tart, acidic on the sides of your tongue, bursting with the flavours that tell you why pomidori are the mainstay of so many sauces around the world — flavour that cannot be had from a hothouse tomato, even vine-ripened. A fist-sized bufalo, the fresh mozzarella cheese produced and sold in vast quantity through the Veneto.
The tuna salad was leaves, tomatoes, a cup of tuna broken on top, and crumbled fresh cheese. (I swear I'm going to learn to make cheese.) The focaccia was baked for crunch, topped with coarse flaked sea salt, chewy, a perfect foil for the oil and balsamic on the table. Lunch cost us about twenty-five Euros, or $33, including two whole bottles of aqua frizzante, two glasses of Proseco and coffee.
Not all our meals in Italy were so simple. We were in a party of nine, so had lots of occasion to see and sample. Italian food arrives one thing at a time: antipasto first,  then primi, or first course, after then the main course or segundo, with veggies even potatoes as contorno, or side dishes. Every dish tastes of itself. No plates heaped high with a jumble of meat and veg together. This in itself makes for "slow food," but also for a leisurely pace and social time.
We all developed favorites:  our Italian relatives ate polenta almost daily; our grandson was obsessed with spaghetti vongole, (pasta with clams, thumbnail-sized and cooked in a little oil and white wine before going shells-on into the pasta) and the exceptional prosciutto from Asolo's butcher, totally lean and so tender it melted in the mouth. The girls (four and six years old) seemed to live on the fresh mozzarella available in big packages at every supermarket. My favorites were fresh fish with slices of orange and fennel, drizzled with oil and placed around the grilled fish, and marvelous wood-fire grilled chicken.  And everyone's favorite was the gelato stop.
We usually ate lunch out (often with views to die for out over the foothills of the Dolomites ) and cooked dinners at home, grilling a little fish or a steak to have with the platefuls of marvelous antipasto we made from the simplest of ingredients: fresh figs with arugula and prosciutto, zucchini flowers battered and deep-fried, grilled or sautéed veggies, a steak. There was usually focaccia, often a nice piece of cheese, always grated parmesan for salad and the children's pasta. And wonderful pasta, flavourful and always precisely al dente. But everyone's favorite was gelato, so the recipes for today are for homemade gelato.
Part of the reason for our visit was to see family, and we did. Our hosts served coffee — with local grappa, sometimes homemade, even at 10:30 in the morning. And amaretti biscuits. In one case, two huge tiramisu cakes, to which "no" was just not an option from Zia Gemma. Morning coffee sometimes turned into lunch: fifteen people, mountains of pasta in simple tomato sauce, bowls of parmesan and plates of olives and radishes, prosciutto (one uncle runs the farm, whose pigs and goats are for the family) and Proseco, treated in the Venuto as local plonk! It was all wonderful, uncomplicated, and fresh. Italian food is as much about sourcing food as cooking it.
Back home, the good news is that community markets are increasingly well stocked with home-grown or small farm produce, and that backyard gardens are making news. Urban rooftop gardens, city plots, allotments — all this spells fresh food that hopefully will set new benchmarks for year-round eating.
Next week:  an Italian lunch in a Revelstoke garden, with recipes and sourcing tips.
And now, for your viewing pleasure, here is a selection of food-related photos from Italy