By David F. Rooney
Ross McPhee — Revelstoke's top civil servant — is resigning and moving to Colwood on Vancouver Island.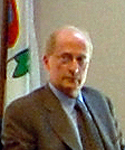 The C ity's Chief Administrative Officer told Council in a letter of resignation dated Aug. 5, that he has "mixed feelings" about his resignation and impending move to Colwood where he will replace that city's retiring CAO, Chris Pease.
"Working together I feel we have accomplished a great deal in recent years," he said in his letter of resignation. "As well, Revelstoke as a place to live is a community which I have enjoyed and which I will miss. It has much to offer to present and new residents and it deserves a great future, which I know it will have."
McPhee has been CAO here since 2006 when he moved to Revelstoke from Rossland where he held the identical position.
Mayor David Raven told Council he has regretfully accepted McPhee's resignation although he noted that while "Greater Victoria (where Colwood is located) has its attractions… it's generally a place where people go to visit their parents."
McPhee will remain on the job here until Oct. 4 when he will take four days of accumulated leave. He will start work in Colwood on Oct. 11.
The City will initiate a search for its next CAO. In the meantime, once McPhee leaves, Finance Director Graham Inglis will be the acting CAO.