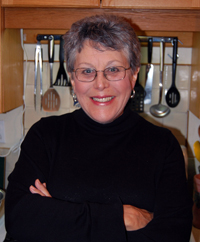 Back home after our trip to Italy, we invited friends and had an Italian lunch in the garden. The melon was okay, the prosciutto (variety Light, with no fat, from Cooper's deli) really good. But it was produce from the Saturday market and Revvie's specialty shops that made it all work—lovely arugula and basil from Terra Firma Farm, good tomatoes from Mayfair Farms in Salmon Arm (at the market,) radishes so big they're almost vulgar, but crunchy and firm with a good bite, from Wildflight Farm, real Italian olive oil and balsamic from Crescendo, and some excellent cheese and bread from La Baguette, including an incredible small focaccia stuffed with olives and peppers.
Impossible to get the bufalo cheese, the fresh mozzarella—the little ones sold in plastic packs have almost no flavour and the consistency of bubble gum. You can marinate them, though, in some oil and lemon and pepper flakes, and then they sort of work.
We drank some homemade beer, a Tuscan white wine, and Pellegrino. I've found the having aqua frizzante on the table in the summertime is a godsend, but you can do the same with a nice jug of ice water from the tap. Dessert was a little fruit tart from Kelly's Baked in BC at the market, fresh blueberries and raspberries, and Sonia's lovely Vanilla Bean Gelato from La Baguette. No cooking, just a little salad prep.
Italian food is as much about sourcing as about cooking. This lunch is hardly cooked at all—just the prawns. The best source of good shrimp is Costco, where one supplier's frozen plastic proclaims "No Preservative" and they are wonderful. A Canadian company now sells through Overwaitea so Cooper's provides no preservative prawns as well, but the quantity is half that of the Costco pack for about the same price, $18.
RECIPES: Italian lunch in the garden
Melon and prosciutto
Salad caprese
Lemon prawns
Focaccia
Baguette
Cheese plate
Fruit tart with berries and gelato
A light ale
White wine
Sparkling water
Melon and prosciutto
1 honeydew melon, as ripe as you can find
200 grams Light Prosciutto ham from the deli counter
Buy the best melon you can find. Honeydew is better than cantaloupe for this dish, as the flavour is mainly from the ham, and the melon provides the counterfoil. Failing a fresh-obsessed greengrocer, you will have to test the melon for ripeness yourself. Pick one up, press slightly with your fingers. There should be a little give. It should not feel hard. There might be a slight aroma, but not always. When you cut into the melon, once you're through the skin, a ripe melon will slice easily and the seeds will fall out—just scoop with a spoon.
Cut the melon lengthwise (knife through the belly button) and remove seeds and skin. It's easiest to do this by cutting each half melon into four, then skimming out the seeds and the rind with a thin-bladed knife.
Buy good prosciutto from the deli counter, not from a plastic package. It will be sliced paper thin, unless you ask the deli server to cut it a little thicker, which makes life easier. Wrap one or two pieces of prosciutto around each melon slice and secure with a short wooden skewer or toothpick. Alternatively, just arrange the melon slices and the prosciutto slices on the plate and let people help themselves. No seasoning needed, but if you have some mint leaves, you could mince a few very finely and strew across the plate.
Salad caprese
1 large bunch arugula, or lettuce leaves
1 package boconccini mozzarella
6 leaves fresh basil
6 large ripe tomatoes
olive oil and balsamic to taste for each person
juice of ½ lemon
Fill a large platter with washed arugula from which you have removed the stems or lettuce.
Cut up 4-6 fresh ripe tomatoes; decorate the leaves with them.
From a package of boconccini, drain the cheeses and slice them. Use a bit of olive oil and the juice of 1 lemon to marinate the boconccini slices for ½ an hour before composing the salad.
Just before serving, arrange the boconccini over the salad and strew basil leaves atop. Everyone dresses from the tabletop oil and balsamic.
Lemon prawns
6 prawns per person, frozen
1 lemon
1 tbsp olive oil
black pepper, fresh ground, to taste
Half an hour before lunchtime, remove the prawns from the freezer, open the package and dump them into a bowl full of cold water. Let them thaw for 20 minutes, then dry them on a clean tea towel.
Heat the oil gently in a frying pan. Add the prawns. Squeeze the lemon juice and add to the pan. Turn the prawns over after 1 minute. They should be in the pan, over medium heat, only until they JUST turn pink and not a second longer. Turn the onto a small platter and pour the lemon and pan juices on top. Garnish with lemon slices, grate some pepper overtop. Eat hot or at room temperature.
Focaccia: buy at La Baguette for a treat, or…
1 lb frozen bread dough (available at Coopers and Southside), or your own
1 tbsp flaked sea salt. I recommend Maldon salt, but it's hard to get here. Use any flaked salt.
Thaw the dough and following the directions on the package, put it into a 9" x13" baking pan, rolling or stretching it out. Let rise, then punch down. Cover with half the salt. Bake 20-30 minutes or until puffed and brown on top. Remove from oven and sprinkle with the rest of the salt.
Cool, cut into quarters and serve.
Baguette and cheese plate
Buy a French baguette and 3-4 cheeses. I like to have a cheddar type cheese, a goat cheese, a Brie type and something else—a goat milk hard cheese, or a really pungent gorgonzola. Cambozola is a good bet if you are looking for zing plus melt-in-the-mouth yumminess. Leave the cheese at room temperature all morning before lunch. Don't slice the bread beforehand—bring it on a board, with a knife, to the table.
Fruit tart with berries
We bought a fruit tart from Kelly's Baked in BC at the market, and piled the berries on top, along with gelato from La Baguette. You could substitute cream, plain or whipped, or the Lemon Gelato made at home (see August 1). The point here is not to fuss. If you don't have a pie, serve the berries alone with cream or ice cream. Peaches would be good too, sliced and for a really Italian touch, sprinkled with a tablespoon of grappa. Italian cooking uses what's in season, so go with what's in the market.
Speaking of the market here are photos from the stalls where many of the foods used in these recipes came from: