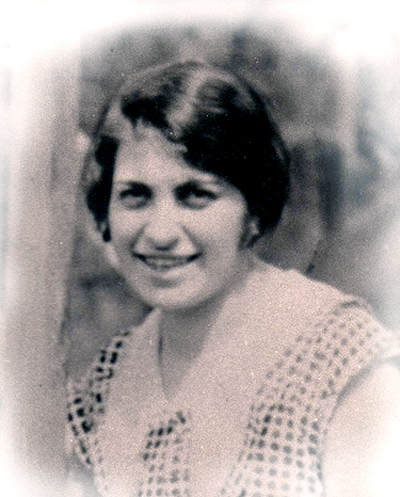 Gina Lanzo passed away peacefully in her sleep at Mt. Cartier Court Extended Care at Queen Victoria Hospital, Revelstoke on July 3rd, 2010 at the age of one hundred and two.  A memorial service will be held at St. Francis of Assisi Catholic Church, Revelstoke on July 6, 2010 at 11 a.m. with Father Tagnines celebrant.  Interment will follow in the family plot of Mountain View Cemetery, Revelstoke.  Flowers are acceptable, or memorial donations may be made to the charity of one's choice, in memory of Gina.
A life-long resident of Revelstoke, Gina was born there on February 10, 1908.  She was an active member of the St. Francis parish and especially enjoyed spending time with her family. She also enjoyed needle-work, sewing and gardening.  Beautiful peonies that she planted decades ago still blossom beside her little house built by her husband in 1932 where her daughter now lives. Gina was a clever, strong-willed woman with a sharp wit.  When asked recently which inventions of the last century made the biggest difference, she replied the sewing machine and the airplane.  When she was 83 years old, she went on her first and only international flight to Italy.
Gina was predeceased by her husband Vincent in 1991 and brother Ugo Pradolini.  She is survived by daughter Elaine Baird of Revelstoke and grandson Samuel Baird of Victoria, as well as nieces and nephews.
Gina was born to the Pradolini family, one of the founding families of the town of Revelstoke. Gina's father, Achille Pradolini, was a talented stonemason. With his brothers, he built many structures that still stand, most notably the family residence, the castle on Second and McArthur where Gina grew up and the Revelstoke Court House.
Her family is very grateful to the staff of Mt. Cartier Court for their attentive care during her final years.
Funeral arrangements are in the care of Brandon Bowers Funeral Home, Revelstoke.