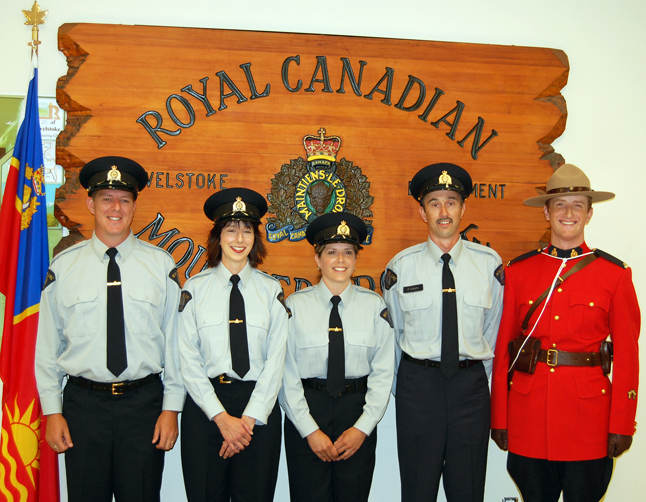 By David F. Rooney
Meet Revelstoke's newest auxiliary constables. Dean Bellows, Carla Schumacher, Karen Volpatti and Shane Volpatti have long harboured ambitions of serving the community and the RCMP's auxiliary constable program is giving them the opportunity to do just that.
As auxiliaries they will assist the Mounties' work in the schools and will work with regular members to protect the public. They may be volunteers and won't carry firearms but they are law enforcement officers. They'll join Aux. Const. Paul Carter, Eric Scarcella, Joe Marcoffio and Troy Tompkins.
Guided by regular officers like Const. Gary McLaughlin and Aux. Const. Paul Carter, the quartet of newly-minted auxiliaries passed 80 hours of studies, a course on the use of force and, among other things, found out what it was like to be on the receiving end of pepper spray.
"I hope you guys remember this moment," McLaughlin said. "You all have careers but have volunteered your time to the RCMP."
Staff Sgt. Jackie Olsen said she hopes "this is a rewarding career for you."
For Mayor David Raven, the auxiliaries' commitment "exemplifies what community is all about."
They will, he said, "see sides of community life that are unpleasant and sides that are pleasant," but in the end it is all about making Revelstoke's community life rich and rewarding.