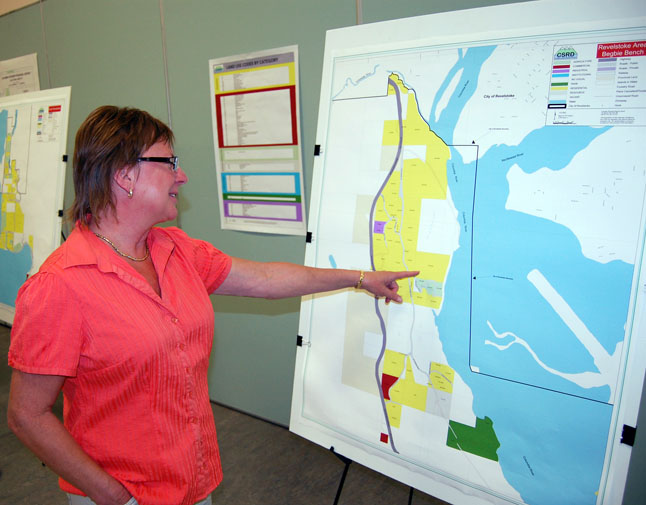 By David F. Rooney
Zoning is coming to the Columbia Shuswap Regional District's Area B but don't freak out. Everything that exists there now will be grandfathered in, says Area B Director Lonnie Parker.
"We're really verifying existing uses," she said at an open house regarding Area B zoning that was held at the Community Centre Wednesday evening.
"It's not controversial here but down in Trout Lake it was a little different."
She said many people in that community made it clear during the Official Community Plan process a couple of years ago that they "didn't want any controls down there." But plans to build the Galena Shores Development, pretty much a massive subdivision of vacation homes near Galena Bay, convinced most permanent residents that having some zoning was better than having none.
"People embraced the idea," Parker said.
CSRD staff have drawn up community maps that show which properties are residential, industrial, commercial, institutional and so on. (You can see the maps and find out more at the  zoning webpage at the CSRD website). At meetings now being conducted through Area B, residents were invited to look at the maps and verify the zones their properties fall under. A simple survey also asks for their address, Parcel Identification Number or property legal description, its primary use, its secondary uses, number of dwellings and other, relevant, features.
None of this will be binding until after a series of public hearings to be held at a future date, Parker said.