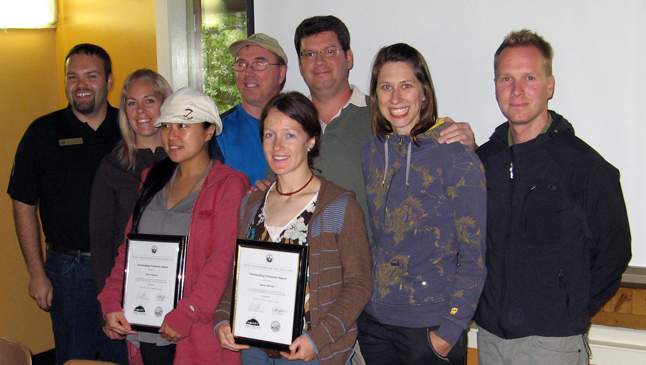 By Jackie O'Ryan
Friends of Mount Revelstoke and Glacier would like to take this opportunity to recognize two individuals who have volunteered countless hours to the organization over the past year.
Firstly, we would like to acknowledge Yuko Fujimura for the copious amount of time she has volunteered at various Friends' events. From Parks Canada Day to Celebrate the Summit she was always keen to help. She was an active member of the 1910 Avalanche Commemoration Committee, contributing over 50 hours helping to teach young and old alike how to fold and create thousands of beautiful origami cranes.  The cranes were a true highlight and a dazzling feature of the 1910 Commemoration Ceremony in Grizzly Plaza this past March. In addition, Yuko dedicated herself last summer to our Junior Naturalist Program (click here to learn about the 2010 program) by assisting the Friends' Education Coordinator Jackie O'Ryan on a weekly basis at each of our nine events.  While there, she helped to setup and run nature games and crafts and continued to spread her love for origami by teaching our young nature enthusiasts how to make bears, and frogs and owls… oh my!  Thank you Yuko, for being so generous with your time. You're a true Friend.
We would also like to recognize and thank Karen McColl for volunteering her time.  Karen's help came when it was need the most, as is the way with most great Friends. When our organization was up against financial difficulties, we were cutting back our executive director's hours and shutting our doors in an attempt to conserve funds; Karen stepped up and offered to help. She facilitated several of our Speaker Series' events over the past year setting up the projector, assisting the speakers, and collecting donations and membership fees. She also contributed time to our Banff Mountain Film festival this past September.  In addition, she offered her proof-reading expertise to help edit the Friends' quarterly newsletter. Thank you Karen, for lending a hand when we needed one most.
Yuko and Karen are just two of the many volunteers who help make each event, festival and the Speaker Series the Friends host a success.  Thank you. Your help and time is always appreciated and we hope you will continue to support the Friends in the future.
Jackie O'Ryan is the Education Project Coordinator for the Friends of Mount Revelstoke and Glacier