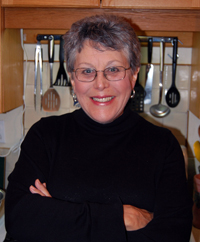 Sometimes less is more, and for many years I avoided kitchen gadgets.  My grandmothers were great cooks with no mod cons.
Then my daughters started asking me what I'd like for Christmas, and I broke down and admitted to a yen for a food processor. Now I cannot — really cannot — imagine doing without one, and also my Kitchen Aid mixer. A really good lime squeezer makes my heart beat faster. I've morphed into a kitchenware junkie.
On Friday morning I went in search good values for innovative gear — available in Revelstoke — for camping, RV travel, boating or the backyard BBQ.
Here are Savage Delight prizewinners for summer cooking. My criteria are usefulness and imagination relative to cost.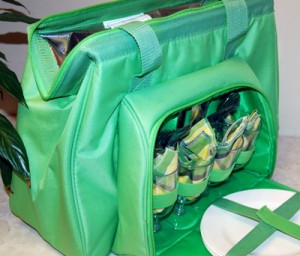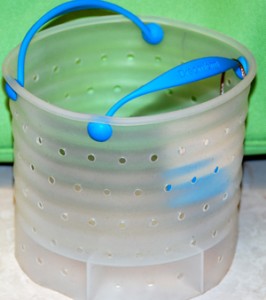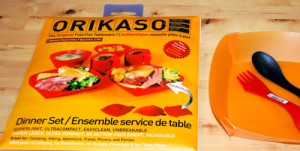 • Cuisinart Digital Temperature Fork: this takes the guesswork (if that's the fun) out of BBQ cooking —
an alarm sounds when your meat or other BBQ dish reaches the temperature you preset.  Home Hardware.
• Picnic prize: a food umbrella (no bugs). The Dollar Store, $2.
• Tongs. Of every size and shape, at every store I visited,
from $2 at the low end to $44 for heavy duty, Father's Day-worthy,
handle-folding heavy duty BBQ tongs, at Chantilly.
• Biggest bowl at best price: supersize bamboo salad bowls
at Fields, 2 sizes, $2 and $3.
• Best health item for travelling anywhere: Watergeeks metal water bottle, $20,
with charcolat filter an extra $10,
and Advanced River Water Filter, $27, at Wearabouts.
More useful gear is listed below. I can't buy all these items to test them — and the quality even in such things as bamboo skewers may vary. It's impossible in some cases to compare like to like, but here are some recommendations for getting the most out of the summer season we all hope will soon burst upon us:
Equipment list for outdoor cooks
BBQ grills and griddles
BBQ add-ons are deservedly popular, promising less food, fewer flames and more even cooking. I am entranced by the grill baskets such as the Deep Dish Grill Wok at Chantilly ($32.99) and the various grills and griddles available to put over the coals, including a pizza griller with handles ($13.99 at Home Hardware) and the campfire griddle with a fold-in handle at Fields for $10.
Also very appealing especially if you like veggie or shrimp brochettes are Chantilly's kebab baskets ($32.99) and rib racks ($25.95).
You can also get disposable foil griddles at The Bargain Store, pack of 7 for $4.27.
Cookstoves
Apart from barbecues and traditional camp stoves, there are a number of tiny portable one burner units large enough for a whole dinner if you're careful with the butane or propane. One is a nifty one burner unit that packs away into its own carrying case and is substantial enough to take a large cast iron frypan or heavy pot. Eco-Cents or Home Hardware, $35.00. Valhalla has a nifty number for dedicated backcountry hikers that packs down to beer bottle size, the Jetboil Flash, for $135 plus $5.95 for the Jetboil Gas fuel.
BBQ's, portable.
Mini BBQ's can be portable and disposable, for one-time picnics.  The Bargain Store has one called Q 2 GO at 4.98, and there's another brand, Eco Grill, for 8.69 at Home Hardware.
One solid pot and one heavy frypan
Cast iron isn't for hiking, but for a campfire nothing beats a real iron frypan or soup-pot. Prices vary greatly, as I perhaps does the quality.  Eco-Cents has a 12" heavy frying pan for $19.99, and a baby 5" one for $11.99; Home hardware carries a large cast iron cookpot for $41.99 and a frypan for $30.99.
Long fire forks for grilling hot dogs
Campfire forks are popular for what comes before the s'mores. The Bargain Store or Fields are the best bet, long ones with wooden handles for $3.
Coolers and totes

Neat novelty: large soft-side open-top tote with handles, canvas with insulation, for ice and drinks, or for whatever you need to transport; at The Bargain Store, $10.98. A similar tote in plastic without insulation sells at the Dollar Store for $10. I'd like 2-3 of these just to collect the debris of living in a tent, RV or boat space, or for boots in the car.

Everyone in town including the gas stations is selling coolers. Be specific about what you want: do you need a drain spigot? Is portability important? The units vary so much I'm not giving prices or descriptions here.  For slightly different needs, The Bargain Store offers a nice backpack food tote cooler with two compartments and other outside pockets, for $19.98. For individual serving dishes, there's a horizontal zippered canvas and insulator hot food carry bag at Home hardware, $22.99.

Lightweight roll-up plastic chopboards.
These sell out everywhere. Chantilly and Home Hardware are left with a very substantial variety, and at the Dollar Store, the order should be in next week for the thin rollable ones at $2 for two.
Kitchen pack

Tiny kitchen, packs into a binder, with scrubbies, soap, utensils, chopping board, and more, $26.94 at Valhalla.
Butane BBQ or gas stove lighters
Best buy is the Dollar Store, refillable, for $2.00—none in stock, they sell them as fast as they arrive. You can get these everywhere, but watch out for prices—some are very fancy, and maybe worth the $$ if you want childproof.
Tin foil: a must for campers, boaters and RVers, with a zillion uses in non-K cooking.
Alcan 12" wide X 25 feet. The best buy in town is at The Bargain Store, 2 for $3.00.  Heavyweight foil at Home Hardware, 50' of 18" Alcan foil for 4.69—also a bargain, given the amount and quality.
Ziploc baggies, Bounty paper towels
The Bargain Store is the best buy for Glad Ziplocs, with 20 in a box for $2.47. Best price for a six-pack of Bounty paper towels is $5.99 at Cooper's.
Wooden or metal skewers

Stainless , bamboo, wood, from plain to very fancy.  Some are V-shaped to stop food pieces from spinning around; others come with racks to prevent food sticking to the grill. You can get short bamboo skewers (soak them before cooking) for as little as a penny apiece at Cooper's or long 12" ones at either the Dollar Store or The Bargain Store for $1.25 and $1.28.

Cooper's also has 15" stainless skewers at 4 for $4.29. If you are planning to do a lot of meat skewering, however, it's worth getting really durable ones like those at Chantilly, 6/12.39.

Two kebab racks go with the skewers in sets at Home Hardware for about $20. The king of kebab equipment is Chantilly's kebab and skewer baskets, little wire holders that ensure your skewered shrimp and mushrooms don't fall into the fire. $32.99.

Old kettle for boiling water over the fire

It's hard to find a plain kettle these days, but Eco-Cents has a few for $5-6.00.  You might want to use the blue enamel coffee percolator as a kettle—goes with the other dishware in blue enamel; the best price is $15.00 at Field's.
Wash basins
The best selection is at the Dollar Store, where three sizes cost $3.50 to $7.00; also available at Home Hardware, The Bargain Store and Fields, whose sale price is a low $1.50—get there fast, as this will go.
Bowls

A million uses when camping, from cooking to hygiene, but often bulky to transport. Collapsible X-bowl, shallow but with chopping board on the base, folds flat, for $15.95 at Valhalla.  Big stainless bowls at The Dollar Store and Home Hardware as well as Chantilly. Best buy see prize list above, for huge bamboo bowls at $3. For the backyard, Inspiration has a beautiful lime salad bowl with servers, and Chantilly also has a great selection of colourful nesting unbreakable bowls.
The finale?  A BEAR BELL, $3 at the Dollar Store. Comes with a nifty carry case that stops the ringer until you need it. And don't forget one final thing: eco-friendly washing up liquid, Wilderness Wash, 250 ml. for $6.95 at Valhalla.
By the way, Eco-Cents is on First Street East below Orton. Gerry Chouinard opened a few months ago and packs a lot of good stuff into a small space on this little traveled shop route — including a pedicure station operated by his partner.