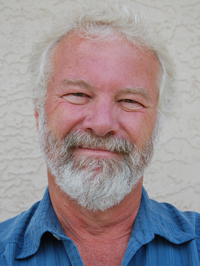 Judy Frye lived life and met death on her own terms but she got more than she might have wished for Thursday as about 80 people came together for a quietly emotional commemoration in the Illecillewaet Greenbelt.
The ceremony, led by Gary Sulz and Fellowship Baptist Church Pastor Rick Eby, was simple and direct. People gathered in the parking lot at the base of the Illecillewaet Bridge and then, led by bagpiper Louisa Dubasov, they walked under the bridge and into the Greenbelt where they congregated in a clearing near the river. There they prayed and told stories about Judy, recognized by many (perhaps even most) local residents as the homeless lady with the dog. She died of natural causes in a motel room on May 26. She died alone but for the company of her beloved pet, Casey. Her body was discovered four days later. She was 64.
Sulz told the people who gathered to pray and tell gentle stories about her that Judy was born in Swift Current, Sask., and lived in Sicamous, Golden and Revelstoke. For a while she migrated between Golden and Revelstoke but she spent most of the last seven or eight years here. Whatever her reasons for living life as she did, Judy was at one time the owner and operator of a gravel company. You could feel a murmur of surprise ripple through the crowd as Sulz revealed that. He also said that, according to her sister, Nancy, whom RCMP located, Judy "chose to live a solitary life — it was her choice."
It's hard to imagine making that kind of choice but people sometimes do — for whatever reason — reject society and its trappings. Judy lived life on the fringe but it seems that's what she wanted.
And that was a choice people respected. They may not have known her well but they respected her choice, accepted her familiar presence in the community and many admired the fact that she would not accept handouts for herself, although she would allow people to give her money to help feed Casey. She would work for money and was scrupulously honest.
Several people told short stories of their encounters with Judy but this is not the place for them… those are their stories to tell, their stories to share. And afterwards, people who brought them laid flowers in the Illecillewaet. Judy's ashes were to be sent to her sister.
For me, it was enough to know that men and women from a broad spectrum of our society came together to commemorate a woman who had a place in our community, humble marginal though it may have been. Like most of you reading these words, I saw Judy and Casey almost every day. I can't say I ever interacted with her largely because she was very uncomfortable around men. But that's okay. She simply wanted to live life as she saw fit in a town that she obviously liked.
How fortunate that she managed to accomplish that. Rest in peace, Judy.