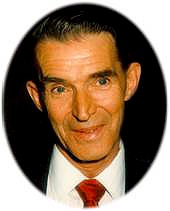 It is with sadness for our loss and gratefulness for a wonderful life that we announce the passing of our father, husband and Popa, Douglas Arthur Parker on June 22 2010, after a long and courageous battle with lung disease.  Doug passed away peacefully at the Central Okanagan Hospice House in Kelowna with his family by his side.  Doug was a former long-time resident of Revelstoke, BC, where he spent 78 of his 85 years.  He was born May 26, 1925 in Revelstoke, the eldest of 9 children born to Nelly and Arthur Parker.  He was predeceased by his parents and his brothers: Wally, Frank and Kenneth.
Doug is survived by his loving wife of 58 years, Frances, and their six children: Larry (Loni), Robert and Jack all of Revelstoke, Deborah McGovern (Brian) and Sharon Parker of Kelowna and Joan DeCock (Doug) of Calgary, 8 grandchildren: Bonnie, Danica, Kevan, Jeff, Mitchell, Jeremy, Ariel and Mariah and 2 great grandchildren: Kyra and Ivy May.  Surviving siblings are Muriel Gallicano of Chase, BC, Sid Parker of Mission, BC, Ronald Parker of Penticton, BC, Gordon Parker of Port Alberni, BC and Lucille Stringer of Lillooet, BC and numerous nieces and nephews.
Doug worked for the CPR for 42 years as a conductor and a brakeman.  He retired in 1985 and then had many years to continue his love of fishing, camping and gardening.  His garden was admired by many residents as were his expert skills as a carpenter and fisherman and he shared those talents with his community, church and many friends.
Doug was a dedicated member of several community service groups that included life-time membership awards for more than 50 years of service in both the Order of Knights of Pythias and the D.O.K.K.  He was also one of the founding members of the medical equipment loan cupboard in Revelstoke.  Doug was a valued member of St. Peter's Anglican Church where he gave countless hours in service to God and the congregation.  He was a past president of the Men's Club, an active member of the church catering group cutting many turkeys and flipping many pancakes at community events.
He and Frances moved to Kelowna in 2003 to Sandalwood Retirement Resort where they enjoyed many new friends and activities and remained close to their children and families.  Special thanks to Dr. Leslie of Revelstoke, Dr. Williams and Dr. McCauley of Kelowna for their years of excellent care.  The family is especially grateful to the staff and friends at Sandalwood and to St. Michael's Anglican Church, Reverend Nissa Basbaum and the pastoral care visitors as well as the staff at the Central Okanagan Hospice House for their kindness and compassion in Doug's final days.
A Memorial Service will be held at St. Peter's Anglican Church, 622 2nd Street West, Revelstoke, BC on June 29, 2010 at 11:00 am with Reverend Nissa Basbaum officiating.  Interment of ashes to follow at Mountain View Cemetery.  A celebration of Doug's life Memorial tea will also be held at Sandalwood Retirement Resort, 580 Yates Road,Kelowna, BC on June 26, 2010 at 2 pm.
In lieu of flowers, friends and family wishing to honour Doug's memory may consider donations to the Central Okanagan Hospice House, #202 – 1456 St. Paul Street, Kelowna, BC V1Y 2E6 or to the City of Revelstoke, c/o Box 1139,Revelstoke, BC for a memorial bench in Doug's name. Condolences may be sent to the family by visiting www.springfieldfuneralhome.com 250-860-7077.
Letting go begins a new journey.