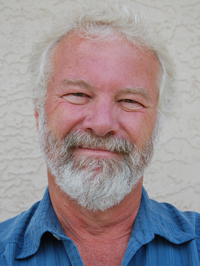 Her cause of death isn't known, but the circumstances of Judy Frye's passing speak volumes. The homeless woman who never went anywhere without her faithful dog, Casey, was found dead in a room at a local motel two weeks ago.
Judy was maybe 60 years old and was believed to be from Golden. Certainly, that's where she was before she found her way to Revelstoke many years ago. Since then she became one of the most recognizable — yet not very knowable — homeless people on our streets. She did not like to be approached by men and would not accept charity. Offer her money and she'd likely tell you where to stick it. But she was deeply devoted to Casey and would accept money if it was offered so she could buy the animal a treat.
Dying alone and unmourned is a particularly lonely way to go. But Judy's death will not go completely unnoticed.
A Memorial Gathering will be held for her next Thursday, June 17, in the Greenbelt at 2 pm, according to a notice from Brandon Bowers Funeral Home.
"Meet at the Illecillewaet Bridge parking lot and we will walk a little ways down the Greenway for the service," the notice said. "If there is anyone interested in participating or sharing a memory of Judy, you will be more than welcome to do so.  If anyone has any questions, please do not hesitate to call us as Brandon Bowers Funeral Home, 250-837-2029."
Barb Little, a well-known dog walker,  had an anecdote about Judy and Casey.
"Every time I saw Judy and her dog Casey I had two thoughts, 'There but for the grace of God go I,' and 'Oh, that poor dog, walking endlessly in the heat on the hot pavement, with that heavy coat.'   But I never heard Casey complain, or make a peep.  By all accounts, she is a sweet, accepting, joyful dog.  I know Judy sometimes told people who asked to pet Casey, that the dog was vicious.  I think this was her way of making sure no one snatched Casey, for I'm sure she meant the world to Judy and kept her grounded and safe, a one sure source of unending love.
"Casey came back to the Pound from the groomer last week bathed, her coat shaved off, and prancing like a puppy.  I'm told there have been many calls from people wishing to adopt Casey.  It warms my heart to know that she will find a much deserved good home and resting place, and that someone else will take her walking.  I'm sure others will see, as I will, Judy walking there alongside Casey, outside, unfettered, free."
For whatever reason Judy had a tough life. But she always tried to meet it on her own terms. I'm told that even though she wouldn't ask for or accept a handout she was always willing to work for cash. That brought to mind for one woman a gentle memory of seeing her sweeping the pavement at the Chevron station.
Life is tough for everyone, especially if you are perceived as one of those who merely exist on the fringes of society and are regarded with contempt and disdain by those who imagine they are socially superior. But no matter how humble or seemingly degraded the homeless may seem they are nonetheless members of our community and their presence is felt in surprising ways. I was so used to seeing Judy and Casey at the Chalet in the mornings or walking down First Street that their absence seems like a small hole in our local reality.
I didn't know Judy as a person but like most Revelstokians I knew her to see her and was always struck by her devotion to her dog, by her vulnerability and her fear of men. She is now far beyond the cause of those fears and, I hope, in a place of peace and joy.