By David F. Rooney
Maybe I'm one of the last people in town to experience this, but 3D digital film is simply amazing. Okay, all I've seen is a selection of trailers for some of the 3D films coming to The Roxy but I'm officially and deeply impressed.
At first you're not sure exactly what it is you're seeing. Objects and people in the foreground of the film look crisp and… heck, three dimensional — almost as though they are right in front of you. It's… amazing.
"This is going to be great," said Roxy owner Carl Rankin when we met at Bad Paul's Friday afternoon. "I watched some NFL football in 3D and it was unbelievable."
Unbelievable. Amazing. Those are both pretty good words to describe the experience, which is a far, far cry from older attempts at 3D film, which never seemed to have the mass appeal that the new technology has. And Revelstokians will be able to sample the new range of digital films on June 25. That's when The Roxy will show a series of 3D films — Avatar, How to Train Your Dragon, Shrek Forever After and Final Destination 4 — to mark the theatre's full conversion to a digital projection system.
For Rankin this is not only a natural outcome given the power, range and affordability of the new technology — it's a business necessity. Not only does it allow him to compete with digital theatres in Salmon Arm and Vernon, he can offer more specialized viewing experiences, too, from the Metropolitan Opera to concerts, sports events to one-of-a-kind events such as film openings.
"There have been three occasions in the past few years when people have come to me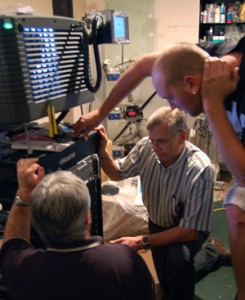 with DVDs of films they've made and asked if they could show it at The Roxy," he said. "Well, sure they could. But they'd have to rent the projector, etc. When all was said an down it would cost them $3,500 just for the equipment."
Now they can do it for the price of renting the theatre — significantly less than $3,500. It also means the theatre can show films more often than once or twice a day. The Christie CP 2220 digital projection system Rankin purchased for about $90,000 is computer controlled and he can set up a playlist that will play what he wants when he wants. Simple, eh?
Simple once it's set up, perhaps. Sound technician Bob Robison os Project Tech in Calgary said he and Christie Technician Chris Tyte of Toronto are spending a week to ensure that the digital projection system is up and running perfectly before they go on to different projects.