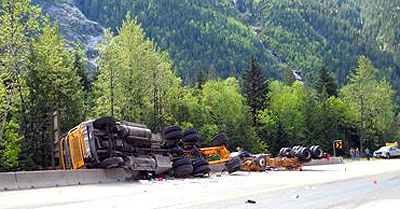 A tractor trailer unit hauling a cement bridge beam crashed after losing control on a series of S-curves on the Trans-Canada Highway 15 kilometres east of Revelstoke.
A statement from the local RCMP detachment said the Freightliner truck was eastbound on May 25 just before 9 am when it failed to negotiate a left hand curve. The truck hit the cement barrier and overturned, dumping the bridge girder it was carrying. The driver of the truck and the driver of the rear dolly were both taken to Queen Victoria Hospital with minor injuries.
With the assistance of the Commercial Vehicle Safety
Enforcement Inspector, it was determined the truck entered the curve too fast for the condition of the road taking into account the load that was being carried.  The driver, a 67-year-old Vernon man, has been charged with speed relative to conditions.
The diesel spill present at the crash site was from the fuel tanks on the truck.  Personnel from the Ministry of Environment attended the scene to determine the risk to the area and to assist with clean up.
The damage is estimated to be in the hundreds of thousands of dollars.