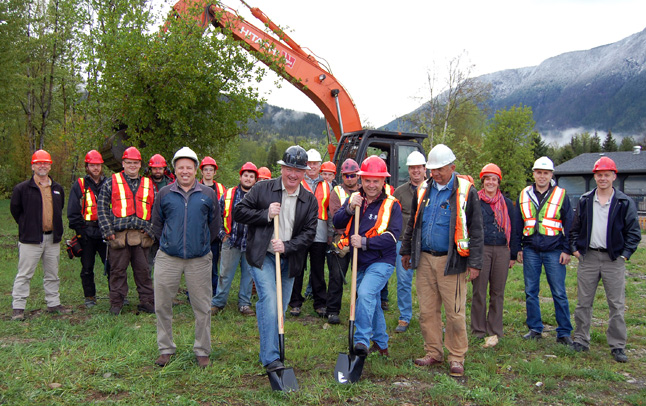 By David F. Rooney
As far as Mark McKee, the Community Housing Society's new chairman, is concerned "there's no such thing as a bad idea" and that is especially true when it comes to affordable housing in Revelstoke.
"We're looking for any ideas that people may have so we can make affordable housing a reality," he said after a ceremonial groundbreaking for the society's very first project — a rental duplex that will be built this summer by students in Okanagan College's Residential Construction Program and finished by Frisby Ridge Construction with some assistance from Jack McKinnon.
The duplex is being built with $250,000 in funding from BC Hydro and additional funding from the City of Revelstoke and Columbia Basin Trust. While most people in the community will doubtless applaud the initiation of construction, many want to know when they can expect to see more construction at Bridge Creek Properties.
"We can't rely on senior levels of government for the cash we need to proceed," McKee said. "That's why we're looking for ideas."
He's serious enough to suggest that anyone with an idea they think is viable should contact him or, at 250-837-5345, Community Economic Development Director Alan Mason or society staffer Debra Wozniak.
Mayor Dave Raven, who broke ground with McKee on Monday morning and later attended the society's 2010 Annual General Meeting, said "the community should be excited and happy that we have a project on the ground."
That may well be but, unless someone wins the lottery or leaves a whack of cash to the society, money could be a problem when it comes to future development. The society has $313,000 — all of it committed to its current operations and this particular project — and there is no new money forthcoming from the City.
Given that situation, the society will likely need some out-of-the-box thinking on that score, too. Anyone have a brainwave?
On a final note, it appears that the society's recent PR problems may be a thing of the past. McKee told the news media at the AGM that they are welcome to speak with any member of the society on housing issues. The society had previously been so tight-lipped in the recent past as to be almost secretive, which prompts Vice-Chairman Phil Welock to jokingly refer to it as "a secret society."