Recipes with extra-virgin olive oil
Olives have Mediterranean connections with Easter overtones. Christos (Krystos) means "the anointed one," and in the Christian tradition, the blessing with oil symbolizes a direct link to God. Olives appear throughout both the Bible and the Koran. In the Hebrew Bible, a white dove carries an olive branch as a sign of peace in Genesis, and in the story of Noah's ark. The olive branch has become a universal sign of peace and prosperity—possibly because of the long time it takes to grow olives, and for the longevity of olive trees.
Wine is the other half of the olive, someone said once. We drank an extremely young but good California Lake Country Trio Blanca, from U-Brew's Limited Edition offerings—one of the nicest dry whites I've had as a make-it-yourself wine. A combination of Pinot Blanc, Chenin and Sauvignon grapes, this is a wine that is drinkable after six weeks and will be good for a few years. It's zesty without acidity, with a hint of berry somewhere, a perfect foil for the halibut and olive oil—standing up well even to the spinach salad.
I have used olive oil every day for 35 years, mainly in salads but also in dishes that require anything sautéd. The smoke point of olive oil is high enough that regular olive oil can be used for sautéing garlic, onions, and soffrito (those mixtures of small diced vegetables for soup or stews) or for drizzling on roasting vegetables, as long as the oven temperature is lower than 380F. Extra-virgin olive oil can contain sediment that makes it less than optimal for deep frying, however, as the olive bits can smoke and burn at lower temps than the oil itself. Also, the temperatures of barbecued meats are higher than the smoke point of olive oil. This varies with the oil, but The Olive Oil Source, a California web site, gives a good survey of the topic. The International Olive Council gives the smoke point of pure unsedimented extra-virgin olive oil as 410F.
You can also use olive oil in baking, which surprised me. Next week more olive recipes, including George's Chocolate Cake, a variation on Wartime Cake because it uses no butter and no eggs, but was described by my brother Grant as really good because "It has lots of gooey."
Simple Salad Vinaigrette
When you get used to making this vinaigrette and experimenting with different oils and vinegars, you'll never buy another bottle of prepared salad dressing. Vinaigrette depends on good oil. You can vary the balsamic according to preference—I like the pear balsamic or my all-time favorite, Maletti.
½ cup good olive oil, extra-virgin
2-4 tbsp. balsamic vinegar. Use the smaller amount first, and add to it
1 small shallot, very finely minced
½ to 1 tsp Dijon style mustard
½ tsp sugar or honey
Freshly ground black pepper if you like it, and a sprinkle of flakey sea salt go directly onto the salad, not into the vinaigrette.
You can add to this 1 tbsp finely chopped parsley, thyme or oregano if you like these flavours. You can add finely minced garlic as well, but I prefer the milder shallot, especially if the vinaigrette is to be kept over 2-3 days. You can use lemon juice too, or instead of the balsamic, but in this case be sure to refrigerate as fresh-squeezed lemon juice inevitably contains bits of lemon that will go off despite being immersed in oil.
Spinach Salad with Pear Balsamic
The pear balsamic adds a sweetness to the spinach that makes the leaves really zing. My thanks to Sue for bringing this!
Wash a bowlful of spinach leaves carefully in a big sink full of cold water. Dry the leaves and remove stems.
In ½ cup of good olive oil, at medium heat, sauté
½ cup pine nuts
½ cup finely diced cooked ham, proscuitto, diced shrimp or tofu
¼ cup minced red onion or shallot
2 tbsp minced garlic
Pour the sautéd mixture over the spinach leaves and toss with 2-4 tbsp pear balsamic. Tumble into the salad just before serving ¼ cup finely grated parmesan cheese and about 12 parmesan shavings (done with a veggie peeler.)
You can make this into a main dish salad by adding 1 cup crumbled feta or asiago instead of the parmesan. A carpaccio of pear (very thinly sliced unpeeled but cored pear) would be a nice addition, but add it as the plates go to the table so the pear won't turn brown.
Tomato sauce for bruschetta or adding to eggs, meat or pasta
½ cup extra-virgin olive oil
1 lb. grape or campari tomatoes, cut in half, drizzled with oil and roasted at 350 for 20 minutes. If you have fresh ripe tomatoes (in other words, in late summer)—great. Otherwise, the small vine-ripened hothouse ones seem to have the most flavour—and flavour of the tomatoes is what this recipe is about.
2 cloves garlic, minced
½ cup chopped fresh basil leaves
½ tsp salt
½ tsp black pepper, freshly ground
2 tbsp chopped parsley
With a masher, squeeze the roasted tomatoes to release the juice. Mix tomatoes with the oil, garlic, basil, salt and pepper in a bowl. Let sit at room temperature.
For bruschetta, toast ½ inch slices of baguette until firm; spread with tomato mixture as above and put back in the oven at 350 for 10-15 minutes. Some people like cheese with this. I prefer the strong tomato essence on its own.
Pacific Halibut with Garlic and Ginger Sauce with Potato-Pea Purée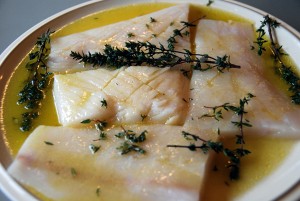 Wine: Trio Blanca, Lake Country California
My aunt Dorothy Crabtree lived in Thailand and Indonesia for many years, and introduced me to this recipe for Pacific halibut, which is now available and is on the list of okay, e.g. not endangered, fish. It would also work with sablefish, or black cod as it's marketed sometimes. Dorothy died last month after a long fight with Alzheimer's, so this is a tribute to her fine cooking and hospitality. Sue suggested adding lime zest—great idea—and I found the potato-pea purée at The Olive Oil Source.
4 Pacific halibut steaks, as thick as possible—1½ inches if possible
3 tbsp extra-virgin olive oil
4 sprigs of thyme, fresh
juice of 1 lemon
Half an hour before cooking, brush fish with a mixture of oil, lemon juice and thyme.
Panfry dredged in flour or panko crumbs, 3 minutes each side, or grill on an oiled pan 3-4 minutes on each side and serve with the following sauce:

Garlic Ginger Sauce with Lime Zest
2 tbsp olive oil
2 tbsp butter
2 tbsp minced garlic
1 jalapeno pepper, without seeds and membrane, minced
2 tbsp grated fresh ginger (don't skimp)
1 tbsp Dijon mustard
grated zest of ½ lime
½ cup dry white wine
1 tbsp light soy sauce
pepper to taste
Sauté the garlic, ginger and pepper in the butter. Add oil, mustard, lime zest, white wine, and soy sauce. Bring to a boil and simmer no more than 5 minutes. Pour over fish and serve with Potato-Pea Puree.
Potato-Pea Purée
This is a lovely colour—bright lively pale green—under a white fish. It's a great foil for either the ginger sauce above or for an additional dollop of extra-virgin olive oil for those who don't want ginger sauce.
1 lb small yellow-flesh potatoes with white skins
2 cups frozen or fresh peas
½ cup milk or cream
½ tsp sea salt
Boil the potatoes in their jackets, being sure to wash thoroughly to remove any mud and eyes, for about 20 minutes or until quite soft. Drain and set aside.
Boil the peas in 1 cup water until just cooked. Drain. Put them in a food processor or blender, and purée with the milk or cream until they are almost smooth.
In a large bowl, smash (rather than mash) the potatoes. They should be broken up but not smooth.
Add the pea purée to the potatoes and blend well. If you are serving at the table, top with a squiggley drizzle of olive oil and another of balsamic. To plate in the kitchen, drizzle a line of balsamic vinegar across the plate; add a dollop of potato-pea purée and a few drops of oil. Set the fish on top of the purée and pass the ginger sauce, as well as a little flagon or the bottle of olive oil.
Serve with spinach salad on the side.