By David F. Rooney
It's Earth Week and the North Columbia Environmental Society has a raft of events coming up to set you thinking globally and acting locally.
All the action occurs Thursday through Sunday, most of it is free and most of it is geared for families.
Here's a run down of what's on offer:
Thursday:
natural foods sale at Mountain Goodness
Friday: Sturgeon release at Centennial Park. This will bring more than 100 people  of the Ktunaxa, Okanagan and Secwepemc nations for a cross-cultural gathering and sturgeon release. Activities to include spiritual ceremonies, children's games, crafts, and storytelling, sturgeon and cultural displays, hand drumming and more. 8 am – 2 pm.
Saturday: An incrEDIBLE evening with food journalist John Steinman. This will be held at the Community Centre. There is a suggested donation of $8 associated with this event.
Sunday: There is Yoga @ Taproot Yoga. This is FREE.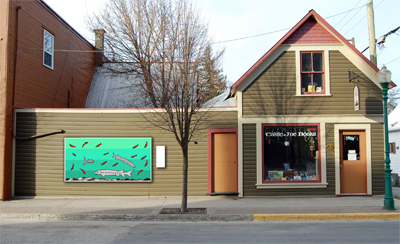 Sunday:
Kids, teens and adults can help paint a mural of sturgeon and kokanee from 10 am until 4 pm. Only two people at a time will be permitted to work on the mural under the guidance of painter David Rooney (yes — that's one of my other hats). Children between the ages of six and 12 can paint one rock each, individuals over  age 12 can paint one kokanee. Experience with an artist's brush is always a bonus but is not necessary. This will be a controlled and supervised event. The mural is to be affixed to the exterior wall at Castle Joe Books.
Sunday: Seed Echange, book swap, children's crafts tent painting small, individual sturgeon and other activities 10 am until 4 pm.
Sunday: Litter pickup campaign form 11:30 am until 3 pm.
Sunday: Music at Grizzly  Plaza by Blindspot from 1 until 2:30 pm.
Sunday: Guided Nature Walk on CPR Hill. Starts at 3 pm.
The NCES is proving to be remarkably dynamic this year. Not is this there this interesting lineup of  events, but it is working on a Community Garden to be planted at the United Church, too, as well as a number of other events this summer. Stay tuned to The Current to find out what's going on.