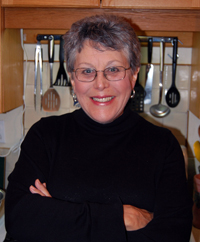 Mountain Meals' website announces Kendra as the Kitchen Wizard, and it's funny how language is suggestive. When you walk into the small front of the large kitchen, there's something earthy and hobbitlike about the place. Maybe it's the mason jar hanging lantern lights or the dark Japanese stools at the counter along the window. Plus you're drooling the whole way, eyeing the deli case crammed full of the most wonderful looking goodies — a huge jar of bacon twists, lasagna squares, burritos, and a lovely fat carrot loaf cake dripping with cream cheese icing.
Mountain Meals is really alight these days — not just with the rafts of customers who "have finally noticed we're here," says Kendra but also with Kendra's own sunny smile.
"My vision was to be a resource for people. To give people a healthy, home-cooked meal when they're too busy to cook." About a third of the business is catering — weddings, events, business dinners — but the take-out is a big part.  Mountain Meals' mac and cheese, for instance, is a staple for some drop-ins at lunchtime, but a favorite take-out, and one of the few restaurant meals all three of the 4-to-9-year-olds in my family attack with gusto. The bacon twists, the wraps, the lasagne, Kendra's soups, the fridge counter full of mason jars of soup, curry and chilli — everything looks so good!
Kendra's vision of good food is shared by lots of us — real food, made from scratch without mass market food products, as locally sourced as
possible. But she's also refreshingly realistic.
"In Revelstoke, it's impossible to get everything locally," she admits. "But we bring in Farmcrest chickens from Salmon Arm, and Alberta beef, and as much as possible try to reduce the carbon footprint."
"It gets complicated," she says. "Farmcrest chickens aren't organic, although they are raised with no antibiotics or hormones, and the birds are barnyard free. But their feed is from the farm's own grain, which isn't organic. If they trucked in organic feed, how far ahead would we be? Grain transportation just adds to the carbon footprint.
"Plus it takes seven years for a farm to go through the organic certification process. How real is it that a farm in Chiliwack where the produce is inundated with exhaust from a six lane highway can be called organic? Do you want to eat that? So it's really difficult to source things the way we'd all really like to."
Kendra learned to cook from her mother at home in Campbell River and Comox before she moved with some friends to Revelstoke sixteen years ago, with a snowboard and a big love of the outdoors. She's moved around a little since, back and forth to the coast, and spent about six years cooking and skiing in backcountry lodges — at Durrand Glacier Chalet, Mount Assiniboine Lodge, and  Sentry Mountain Lodge, among others. But she's mainly a self-taught chef. She started her own business with a table at the Community Market called Exquisite Taste, doing desserts and baking, then opened Mountain Meals last summer.
"The biggest thing is to just eat good food," she says. "If you don't eat processed food, you don't have to worry too much about sugar or salt, because you just won't get it in things that are made from fresh produce."
The staff of four includes Mikko — "he's a really talented chef," Kendra says, "which is so great because I can do the management stuff, like the marketing and paying bills and cleaning the bathrooms."
There are also Nick and April, two more cooks, and Justene the counter wizard. One of the best outcomes of Mountain Meals is the good working atmosphere in the kitchen. People came to me for jobs, Kendra tells me, and we have a very good time. "I like it that everyone here likes coming to work. It's really important, one of the best things about the business." Part of the magic.
On March 19, Kendra's wizard skills will be on display in a cooking class/dinner event she is sharing with Crescendo, from next door. For $50 each, guests will enjoy a five course dinner that Kendra will show them how to cook, plus wines to pair with the food. So far four people have signed up, so put your name down at 311 First St. West and pay up if you want to come. It should be a magical evening!