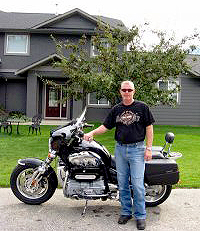 By David F. Rooney
People across the city are in mourning today over the passing last weekend of Jim Holdener, who was easily one of the nicest and most genuine people in town.
Holdener died Saturday while on a motorcycle trip to Las Vegas with his wife Sue. They had stopped at a hotel in Tehachapi, Calif., and had dinner. Jim decided to go soak in a hot tub. He was found dead some time later. Younger brother Bryon and his wife Linda along with older brother Dennis went to California to help Sue arrange for the return of her husband's body. Kelley Mohn, Jim's niece, said they are expected back in Revelstoke on Tuesday.
"At this time, we really have nothing to tell anyone as we ourselves do not know all the details and with something as sensitive as this, speculation is useless," she said. "What I can say is that up to this point, the family's first priority has been to get the much-needed family support to Aunt Sue and to get her home as quickly as possible.  Arrangements are being made to get Unc home and only then will we be able to actually face this nightmare.
"I apologize for not having any words at this time to describe who or what Jim meant to us.  I believe us all to be in a state of shock and disbelief and much too soon, reality. Our hearts ache."
Jim Holdener's death was felt throughout Revelstoke. No matter where you went Monday people spoke in hushed tones about the 55-year-old front store manager for Pharmasave.
"Jim was genuine, patient and the most honest person you would ever want as friend co-worker," said Pharmasave owner Steven Hui. "Non-judgemental and willing to help anyone and everyone. I have never heard him utter a bad word about anyone. He added the spark to any special event at the store and was the ultimate team player. I think of the many events we did as a staff and he always participated and enjoyed being with everyone. We were blessed to have 15 wonderful years to work along side him and miss him very much so."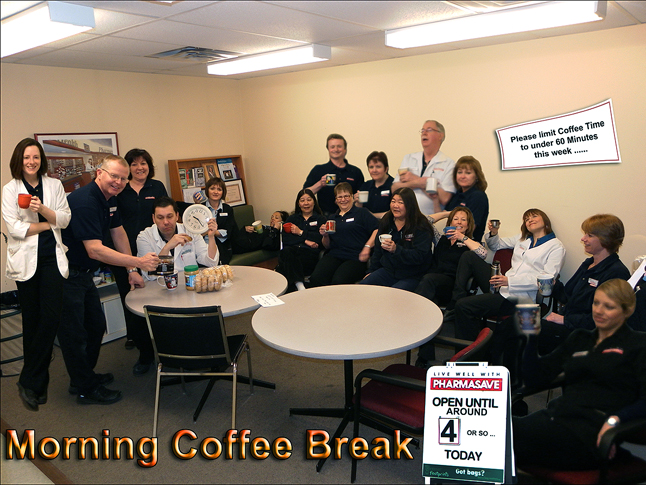 Jim was an active member of the community, helping out extensively on the 2009 Homecoming and, annually, with the Heart & Stroke Foundation's Big Bike event. He had a wicked sense of humour and enjoyed a good joke, whether at work or on his time off. He was a healthy adult and actively promoted healthy lifestyles for Pharmasave's employees and customers.
Across town and even across the region people have fond memories of the gentle, good humoured Holdener.
"My memory of Jim was, in the early 1980s, Jim ran a store next to Coopers that sold clearance stock from various clothing stores around town," Bob Eley said in an e-mail to The Current from Kamloops.  "Things were not always busy in the store, so Jim, always the humourous guy, strung fishline, connected to the top of the door to various items in the store.  You wouldn't see the line, but you'd be looking at shoes on the rack or pants on a rotary display, when someone would open the door and a pair of shoes or pants would rise up off the display, as if by magic.  It would totally freak you out at first.
"Jim always said that he was working on his second million, he'd given up on making his first.  He will always be remembered because of his friendly demeanour and his ever-present sense of humour.  He's one person that I've met in my life that I will never forget."
Heather Duchman, a cousin of Holdener's, struggled Monday morning to maintain her composure. While personally close to Jim she was particularly concerned for Susan.
"They've been together since high school," she said. "This is going to be terribly difficult for her."
It will be difficult, too, for the rest of the family. Although his parents, Arnold and Bea, have also passed on, Jim is survived by six brothers: Gordon, David, Keith, Dennis, Glen and Bryon. All but Glen, who resides in Penticton, live in Revelstoke. The Holdener family have been active mainstays of the community since Xavier Holdener came here in 1929 from the United States. The family owned and operated the Enterprise Brewery in Revelstoke until the 1950s.
Keith in an e-mail Tuesday morning Keith said family members are "understandably stunned with grief, and do not have any information as to the cause of his untimely death… our concern is for each other, and we are strengthened by the love our family and friends provide us with at this time."
A Celebration of Life service will be held at the Community Centre on Monday, March 29, at 2 pm. Inurnment of his cremated remains will follow in the family niche of Mt. Begbie Columbarium in Mountain View Cemetery.