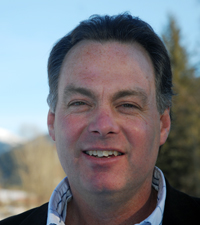 In 2005, people across the province read a book called the 100 Mile Diet.  Then they asked themselves, could I survive on only food that was produced within 100 miles of my home?
There was a time when a great deal of the food consumed in this area was produced in this area, but times have changed and we've lost most of the food security that a healthy local agricultural industry brings.  That loss of food security is something that concerns us all.
When we ask ourselves where our food comes from, too often we discover that the food we are about to eat has travelled thousands of miles to reach our plates.  And often that same produce that travelled so many miles could also be grown within miles of our homes.
I believe that more and more people in this area are committed to eating more locally grown food.  They want to support local food producers.  And they want to develop the societal resiliency that local food security brings.
We want to be able to feed ourselves.  We want to be able to make food choices that make environmental sense.
But over the last number of years, we have seen a number of government actions that have harmed our ability to access local food.
Government regulations have made it harder for consumers to purchase locally produced food.  Government actions have made it more difficult for farmers, ranchers and fruit growers to make a living.  And government decisions have reduced protections for valuable agricultural land.
We need a government that will take seriously its responsibility to develop a system that encourages local food production.  We need to protect our agricultural lands, promote environmentally sustainable farm practices and make sure that small scale agriculture is economically viable.
With summer right around the corner, Farmers' Markets in our communities will soon be filled with locally grown produce, providing us all with a great opportunity to support local businesses and promote food security in our area.
Norm Macdonald is the NDP MLA for Columbia River-Revelstoke. You can find him online at www.NormMacdonald.ca.