By David F. Rooney
The Grizzlies played a tough and successful game against the Nelson Leafs on Wednesday, spanking their opponents 4-2 to lead the playoff series 2-1.
This was excellent hockey between two closely matched teams. That has been shown from the get go last Sunday when the Leafs defeated the Grizzlies 3-2 in overtime at the Nelson Community Complex. The Grizzlies showed the power of their bite the next night when they beat Nelson 4-3 on home ice.
The Leafs blew into the Forum hoping to teach the Grizzlies a lesson and scored on a power play early in the first period but that was just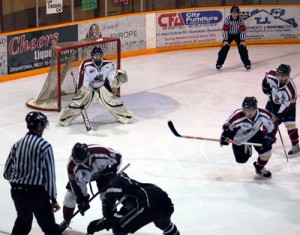 about it for them. No matter how hard they tried to drive the game into the Grizzlies' end they just couldn't prevail. Revelstoke's Faiz Khan returned the goal 59 seconds later at the 12-minute point and from then on it was obvious that the Grizzlies would consistently out-skate and out-shoot the Leafs.
In the second period Revelstoke's Bruce Silvera scored at 16:54 off Jordan Bledsoe and from then on it was a game of wits, talent, training and perseverance to see who would dominate the rest of the match. Nelson managed a second goal at 3:25, but first Kyle Ceretzke at 2:20 from Jakob Reichert and Jeff Mobley and then Brendan Burge at 1:51 from Khan and Luke Richardson scored to put the Grizzlies ahead 4-2.
There was no scoring in the third period.
Revelstoke Goalie Andrew Parent played beautifully, fending off 32 of 34 shots on goal while Nelson's Matt Lerose and Billy Faust managed, respectively, saves on 20 of 23 and 10 of 11 shots on goal.
Penalty-wise this was a clean and quiet game with just nine penalties — four for the Leafs and five for Revelstoke. There was plenty of applied force out on the ice, but it was careful, deliberate and well within the norm. This game was about skill and nerve — not which team could out-bully the other. This was hockey.