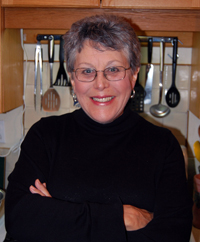 Feast food is one of the hallmarks of culture. The food you eat to celebrate great events — weddings, holidays, holy days — defines who you are as a family and as a culture. At Christmas and Thanksgiving, Canadians eat turkey. Easter often calls for a ham, our tribute to an agricultural past when springtime brought the final yield of the family pig's mid-winter martyrdom.
Although my grandmother's days on the farm were in the distant past, for my family, Easter was ham. A big one. Twenty-five of us would enjoy a sit-down dinner that was figuratively — given the gently lapsed Christianity around the table — an end to the Lenten fasts (I'm giving up chocolate, what're you giving up?) between Shrove Tuesday and Good Friday. My mother, grandmothers and great aunts would bustle all day to provide a ham and sometimes a roast chicken or turkey as well. Scalloped potatoes were the usual accompaniment, as well as corn, peas, yellow butter beans, olives and radishes, pickles, bread rolls white and brown and butter, two sorts of mustard, and for dessert apple and pumpkin pies. It was a grand occasion, with sterling silver and the good china, sherry before dinner and wine with, and admonitions that children be seen and not heard.
At age ten, it was with grave sympathy (and scarcely believable naiveté) that I learned that the father of a boy in my class was a train conductor, and worked all day on Christmas and Easter. How could this be? Better the trains stop running, was my childish thought, than not have your dad there at dinner. Fast forward twenty years, and there I was married to my own version of a train conductor (an airport manager, stuck at the terminal through mechanicals and weather delays.) We delayed dinner until he arrived.
When I began to plan Easter dinner this year, a week ahead of time so as to produce the menu for this column, it turned out that among ten people there would at least four different arrival times, if you counted the possibility of one of us not being able to turn up at all. Someone was booked to give a course that day, then that one turned into two. Someone else was doing music at the church, so would be late. Three children, however, would arrive right on time.
This is typical of families today. Work and sports schedules mean that it's truly difficult to have everyone turn up at the same moment hungry and ready for a large meal. Hence fast food.
So fast food the slow food way became this year's goal. And it turns out there is a way to serve feast food and also accommodate the no-shows and late arrivals without worrying about the interruptions or the gotta-go's. Here's how it works.
Set the table using your best of everything, as though it were a luxury picnic buffet. Wrap cutlery in napkins. Line glasses up. Stack plates. Set out condiments: mustard, mayo, salt and pepper, lettuce leaves, cheese slices, pickles.
Cook every item with as much care as though you were all sitting down to a four-hour dinner.
Add sandwich makings to the menu. Choose any two of these: fluffy Portuguese dinner rolls, round whole wheat rolls, flour tortillas, crepes, focaccia, nan, pita pockets, a baguette sliced thickly or small baguettes sliced lengthwise for mini-subs.
Plan self-serve vegetables. I did baby beets in vinaigrette, Caesar salad, and home oven-baked potato and yam fries.
For starters, plan skewers or finger food. We had shrimps braised from frozen in ginger balsamic for 3 minutes, drained, marinated in chilli lime vinaigrette, and served with toothpicks.
Put out a serve-yourself bar table.
When the turkey or ham is done, (you could also use a baron of beef or a whole salmon) put it on a platter and set it beside the bread rolls with carving tools. Let everyone except the six-and-unders carve their own and put it on a bun.
In the end we had three arrival times and one predicted no-show. There were moments of pandemonium as we helped the children make up their plates, but after that we all relaxed and chatted through the hello's and good-byes, through the kids' early requests for creamsicles, and over the din of multiple conversations. It was fine. The ham was great. Why didn't I think of this 30 years ago?