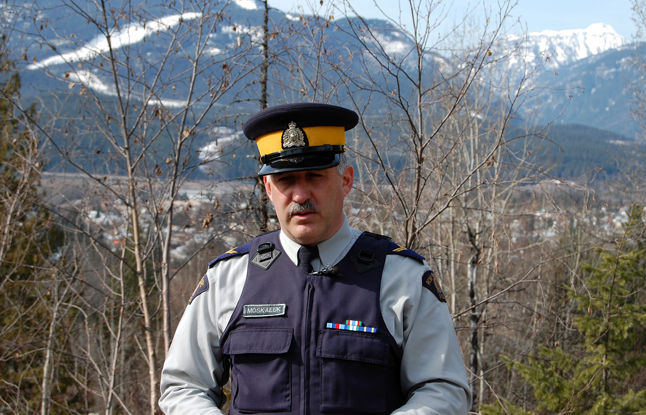 The Class 4 avalanche that killed a Calgary man and lightly injured a snowmobiler from Saskatchewan on Friday was large enough to "level buildings… or easily derail a train," Cpl. Dan Moskaluk said at a news conference today.
"The slide occurred when there were two individuals who were ascending the hill… they were high marking," he said. "This appears to be the cause of the avalanche."
The snow slide occurred at 3:57 p.m. on Friday in the Eagle Pass Snowmobile Area about 30 kilometres west of here.
" There was a second group (of 10 people)… positioned at the bottom and off to the side of the slide area," Moskaluk said. "Unfortunately they were affected in the slide and there was one individual in that group that was buried."
That man, a 30-year-old from Calgary who was not wearing an avalanche beacon, died. An autopsy will be held to determine the exact cause of death. A second snowmobiler, this one from Saskatchewan, was very lightly injured. The names of the two men were not released.
Revelstoke RCMP and Search and Rescue personnel, accompanied by two search dog teams from the Canadian Avalanche Rescue Dog Association (CARDA) and one from Parks Canada flew to the site shortly after the incident occurred on board helicopters from the RCMP, Canadian Mountain Holidays and Selkirk-Tangiers.
Moskaluk said they determined there was no one buried beneath the snow. They planned to search again today but shelved those plans after extensive checks by RCMP showed that no one was missing.
"We can state with a high degree of confidence that there are no further persons buried," he said.
This was the second major avalanche to kill a snowmobiler in the past week. A large avalanche on Boulder Mountain, just outside Revelstoke, killed two people and injured 31 last weekend.
BC's Public Safety Minister Kash Heed said at the time that the province had "learned a lesson" about the danger of the backcountry, yet snowmobilers continue to flock to the mountains near here. Most take precautions but there are always some who don't.
Local Mayor David Raven said the latest avalanche has convinced him that it may be time for a licencing or registration program, perhaps coupled with avalanche training.
The Canadian Avalanche Centre's daily bulletin for Friday listed the hazard level as "considerable" for the Eagle Pass Snowmobile Area.
While snowmobilers may still be flocking to the area — a number of people say they seem to think there are more snowmobilers here this weekend over last — the avalanche risk has rattled at least one heliskiing company.
A statement from Eagle Pass Heliskiing said it was shutting down its operations a month earlier than anticipated because of the danger.
"Our snow safety program was showing elevated avalanche danger with high consequences," said Operations Manager and Lead Guide Jordy Shepherd. "With client and staff safety being our primary concern we chose to shut down our ski program about four weeks earlier than normal."
He said the company, one of several heliskiing operations centered around Revelstoke, made the decision, "despite the demand for heliskiing and boarding," prior to the March 13 avalanche on Boulder Mountain.