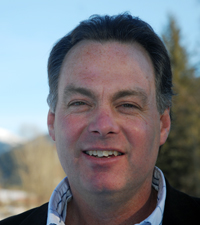 We all know that budgeting is about choices.  Whether it is for your household or your business, you have to make choices about revenue and about expenditures.
So does the provincial government.  And since the release of the 2010 Provincial Budget on March 2, minister after minister has stood up to defend cuts to programs saying that the government had to make some tough choices.
They go on to say that while they would love to be able to fund playground upgrades, improved energy efficiency, operating room time and the promotion of local foods, they have to make 'tough choices' in these challenging economic times.
In one example after another, government programs that were intended to improve the lives of regular British Columbians are being cut or cancelled.  People in need are being hurt.  Children and seniors will be living with less.
But there was one 'tough choice' the BC Liberal government wasn't willing to make.  Instead it was full steam ahead with a massive give-away of revenue to the one sector of the province that absolutely didn't need it.
In 2009, Canada's top 5 banks made $13.1 billion in profits.  Bankers' bonuses for Canada's 6 largest banks for 2009 are reported to be $8.3 billion.
These numbers indicate that despite the tough economic times, the banking sector is doing just fine.    Clearly, the big banks do not need any assistance from government to remain profitable.
But when the BC Liberal government sat down to make the 'tough choices' needed for the 2010 Provincial Budget they decided that while you could live without government programs and services, it was the banking sector that really needed government's help.
They chose to continue the phase out of the Corporation Capital Tax, saving the banks $100 million annually.  Yes, they gave away $100 million in tax revenue that could have been used to protect government services.
This government is continuing with its agenda to reduce services for seniors, to move the tax burden more firmly onto the middle class, to reduce costs for big business and to transfer the public wealth of this province into private hands.  It is an agenda that will leave every average British Columbian poorer.
The only thing that will stop this shift is an electorate that stands up and speaks out.  The power is in your hands.
An active and engaged voting public is the only antidote to a government that has lost sight of its responsibility; the responsibility to put the best interests of the people of the province first.
Norm Macdonald is the NDP MLA for Columbia River-Revelstoke