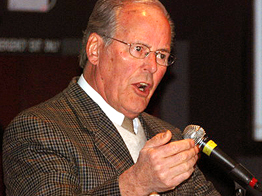 By David F. Rooney
Bill Vander Zalm is bringing the fight against the BC Liberals' proposed Harmonized Sales Tax to Revelstoke next week.
The former premier will be here on March 30 to speak out against the HST at 7:30 pm at the Community Centre as part of a swing through the Kootenays and the Okanagan to promote the petition his organization — fighthst.com — hopes will force the government to hold a referendum on imposition of the tax
Vander Zalm's petition requires the signatures of 10 per cent of registered voters in all 85 electoral districts to succeed.
"We need as many volunteers spread out across the province, since a shortage of signatures in even one riding means the whole petition is invalid," Vander Zalm said in a statement released Wednesday. "That is why the Okanagan and Kootenays are so important. Without them, there can be no success."
Organizer Troy Sebastian said the threshold for signatures is high but not insurmountable.
Last July, just a few months after winning the provincial election last spring the BC Liberals announced they had made a deal with Ottawa. Under the terms of the agreement, the federal government is to collect the 12 per cent HST — a combination of the seven per cent Provincial Sales Tax with the five per cent Goods and Services Tax — that will be applied to almost everything. The provincial government received $1.6 billion from Ottawa to help it implement the new tax.
However, it is a long way form being a done deal. The changes must be passed by the Legislature before the HST can be imposed and that's why Vander Zalm and like-minded British Columbians are campaigning to have people sign the petition.
.