By David F. Rooney
Looking for something intriguing for your livingroom or office? Or perhaps a lighting system that will not only brighten up a room but conversations, too? Well, if those items are high on your priority list you don't have to drive to Vernon anymore.
Areaworx at 308 First Street West is offering local residents access to great-looking home decoration products at a range of prices from very-high-end to affordable.
"Just because we live in a small town in the mountains doesn't mean we don't have good taste," Areaworx' owner, Gennifer Ryan, said in an interview Saturday.
Ryan's new take on lighting and other products ranging from bamboo carpets to pillows and furniture might make you imagine it's only for people with high-end budgets, but you'd be wrong.
"The whole philosophy of the store is that it doesn't have to be expensive to be great," the professional interior designer said. "I'm like a lot of people. I follow the trends in movies and magazines and I have a pretty good sense of what people want. The difference is that I know where to get the items you're looking for."
She and her husband, Jim, moved here three years ago. A subcontractor to Will Power Systems, he had come to work at Revelstoke Mountain Resort while she had won a $100,000 contract to design its interior. Unfortunately, their timing was impeccable. They moved here right when Revelstoke Mountain Resort changed hands and the plug was pulled on a raft of contractors and sub-contractors.
The couple didn't want to move again so they settled in and buckled down to make a place for themselves here. Jim plies his trade and Gennifer plies hers.
"Opening a lighting store seemed like a good idea," she said. "We don't compete with anybody else in town and it allows me to continue my interior design work."
The store is an excellent way for them to blend their occupations. If you need a specialty lighting system installed in your home or business, Gennifer can help you find it and Jim can install it for you.
Areaworx has a wide variety of different products and prices. It's worth walking in to see what's on offer. But there are a lot more lighting products coming… and if Gennifer doesn't have what you want in stock she knows exactly where to find it.
Areaworx is open for business now but does plan an official opening in early May. The shop is located at 308 First Street West. The store phone is 250-837-7474. The shop's e-mail is gennifer@areaworx.com and its website is at www.areaworx.com.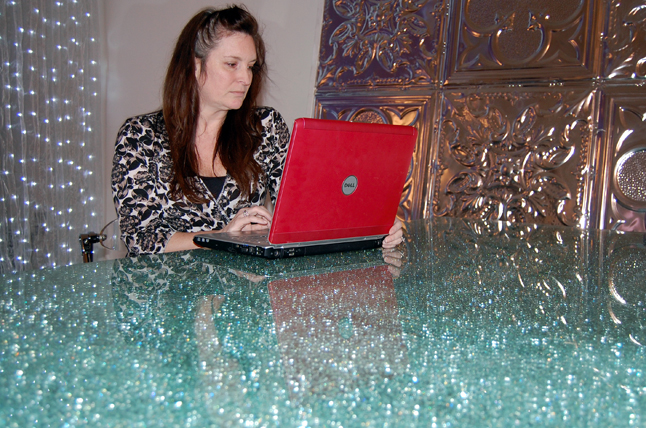 ***
Revelsoke Printing and Little Caesars Pizza of the Week hidden word: Promotional Products