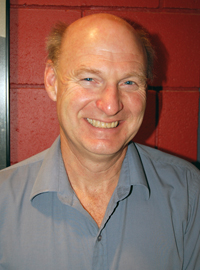 By David F. Rooney
Alan Chell has been awarded a BC Community Achievement Award.
"Alan Chell is an outstanding leader, facilitator, motivator and volunteer in the City of Revelstoke," says the announcement of his award, which you can find at bcachievement.com. "As the longtime director of Parks and Recreation and a dedicated volunteer, he has been instrumental in coordinating community, sporting and cultural events. Alan serves on the Revelstoke Board of Education as a trustee and chairperson."
He was one of 45 individuals from across the province who were named as recipients of this year's Achievement Awards.
"I didn't know what to think when they called," he said in an interview Wednesday. "My first reaction was: 'Who is this?' And 'What is this for?'"
But seriously, Chell said, this is a major honour.
"There have been two previous recipients from Revelstoke — Geoff Battersby and Gordon Bell. I felt tremendously honoured to be included in the same category," he said.
Chell will receive the award from Lieut.-Gov. Steven Point during a gala dinner at Government House in Victoria on April 28. He and his wife, Linda, will be joined at the dinner by his parents, Dick and Betty Lou Chell of Langley.
Congratulations, Alan. You deserve it