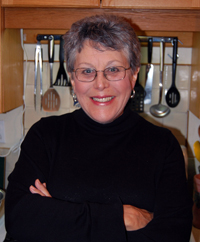 Owner Sylvie and chef Olivier Dutil at the Woolsey Creek Café have finally found their niche. We've eaten at Woolsey Creek twice in the past week. The Valentine's Day set dinner was beyond expectation; a week later, the regular menu, played again to a capacity crowd, wobbled only slightly, showing that with just some tweaks, Woolsey will be Revelstoke's primary contribution to international fine dining, giving us a thoughtful, locally sourced organic menu, and a kitchen with a fine heartbeat.
On Valentine's Day, The Honey Sesame Candied Salmon Skewers was a skewer of salmon so lightly candied it was barely sweet, served on a small bed of mâche. The Homemade Veggie Terrine was served on toast, the whole surprisingly deep-flavoured and delicious. The standout was the Smoked Duck Carpaccio with Foie Gras Paté, two paper-thin slices topped with a radicchio shreds in balsamic, with foie gras on top — three distinct yet balanced textures and tastes.
The soup was a beautiful yin-yang presentation of Leek velouté beside Roasted Beet potage, topped with a fine drizzle of cherry balsamic. Very Valentine. After this a Cherry Granito was a refreshing touch.
We tried three of four mains — game, bird, fish — forgoing the goat and camembert phyllo pastry. My Guinea Fowl Supreme Stuffed with Pistachios and Apricots on a Sun-dried Tomato Risotto with Maple Whiskey Bercy came as tender and juicy breast on a little bone, with delectably crispy skin. Risotto must be the very most difficult restaurant dish; if it sits for even five minutes the rice grains absorb too much of their cooking liquid and turn gluey, but it's the nature of the dish, not the fault of the kitchen.
My spouse chose Seared Sablefish with Buckwheat Soba Noodle and Dashi Miso Broth, chunky delicately steamed black cod atop noodles mixed with some fine julienned vegetables in a light broth with that clean Japanese taste.
The real triumph was the Black Peppercorn Crusted Rack of Venison with Sautéd Trompette mushrooms and Blue Roasted Potatoes in Rosemary Glacé, the best venison any of us had ever tasted, a hearty piece of tender meat on a rib-bone, crusted all over with peppercorn, in a moat of herb-infused red wine sauce.
Yet another course, mixed baby greens with mild and creamy local goat cheese in a vinaigrette with citrus balsamic Calamondine from Crescendo.
Ex-Woolsey pastry chef Sonia of the about-to-open La Baguette provided dessert, a chocolate box case holding layered white chocolate and raspberry mousses on a crunchy shell of hazelnut and chocolate, topped with espresso gelato.
The wine pairings for dinner included half a glass each of two wines, according to the food choices, plus a champagne brut with cassis for intermezzo and a glass of port after dessert, all for $25.
A week later, the regular menu gave us perhaps too much choice. Mine was Bison Carpaccio with Parmesan shavings — a quintet of bison rounds
so tender they melted into the plate, with leaves and balsamic. Equally good was the intense cream of Asparagus Soup with Wild Boar Bacon bits — a standout starter.
The day's special was rabbit in a cream mustard sauce with golden beet and asparagus. The rabbit leg was excellent — falling-off-the-bone tender, with a delicate creamy sauce full of nice grainy mustard. The beet was succulent but the asparagus was woody and the potatoes a tad overdone. My spouse declared the chicken curry dish outstanding, and my friend enjoyed the Duck Confit and its rich aigre-doux sauce.
The familiar pine-panelled chalet works well with the Québecois savoir-faire — warm, confident, charming. Lighting is soft but not so low you can't see the food. Service is by gorgeous tall brunettes touchingly innocent about cover or the menu. We had to ask for forks rather than teaspoons for dessert on Valentine's Day, and every question (What exactly is Confit? Where does the wild boar come from? Was this wine on the menu last week? ) was referred to the kitchen. Live classical guitar on Valentine's Day was delightfully provided by Bob Old — much better than the usual loudspeaker distraction.
Woolsey has a reputation for being expensive, but Valentine's dinner, six courses for $59-69, with wines $25 per person for 4 paired half glasses, banks as reasonable for comparable quality — six imaginatively conceptualized and attentively prepared courses, beautifully presented, all really delicious. Compare to city prices (Eigensinn Farm, north of Toronto: $295 per person — yes, a different experience, no tuques at table, but that's pricey) and consider that Revelstoke food is more costly, and the clientele less regular.
Sylvie and Olivier are aiming high. If Woolsey Creek can sustain its Valentine's Day appeal to its patrons' hearts and minds as an everyday standard, with a continuing eye to both visitors' and local residents' tastes, they'll put Revelstoke on the culinary map.
Evenings only. Reservations recommended (250-837-5500 after 2 pm) and if you want to talk, ask for a table away from the speakers and the bar, in the quieter northeast wing.