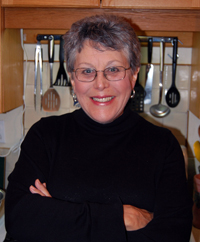 Winter vegetables are so called because roots can live in a cold cellar from October until April. My grandmother lived as a child on a farm, eating sowbelly, potatoes and cabbage much of the winter. Underground or basement cold cellars were the norm even in some cities, until quite recently. These days, we can with delight buy lettuce and peppers and mangos out of season. But roots are more cost-effective and in winter, very satisfying.
"Meat and two veg," including potatoes, are the forerunner of the Western diet that's now under such criticism from food critics and Mrs. Obama. Nearly half of North Americans now suffer from obesity, heart disease or diabetes. The Western diet has something to do with this. When it comes to what we should do about it, one proposal calls for balance and real food. As the writer Michael Pollan says, "Eat food, not too much, mainly plants."
The trouble is, a dish of boiled turnip, beets or carrots on its own is dull—much yummier stuff all around, it seems. And in the world of fast food, root vegetables don't fit. Rice is faster, pasta is easier. But root vegetables have more nutrition than either rice or pasta, and are particularly good (the orange ones) for Vitamin A. Roots need a little patience, but once you start using a variety of root vegetables, you'll find they can replace pure starch with their own richer, more intense nutrition and flavours.
Root secrets
1. Roast roots, don't boil them.
Roasting seals the goodness and flavour inside the thin skin created when a cube of yam or parsnip goes into a hot oven, particularly when coated very lightly with olive oil. The flavour, moisture and nutrients stay inside, rather than leaching into the boiling water. The roasting 'skin' caramelizes in the pan, bringing out the natural sugars. The roasted root keeps its texture and shape.
2. Eat mixed roots.
It's appealing to eat a plate of vegetables with a few small pieces of yam, some of potato, a little parsnip, a slice of beetroot, perhaps some fennel or onion, a few slices of carrot, but eating a whole portion of just one of these can be tedious. Once I ate dinner in Umberto's at Whistler, alone and sitting at their counter watching the chefs. There were nine vegetables on my plate, each cooked differently, along with a tiny piece of salmon. It's no more trouble to peel and chop a few of each root, and to cook them together, than ten of the same one.
3.  Flavour your roots.
Roots need salt at least, and benefit from a companion flavour—balsamic vinegar, lemon or lime juice, butter, oil, cream, herbs, spice or chilli.
4. Choose your roots with tender care.
A good root should be recognizable as such. Fine if the potato has some dust on it—better, in fact, than if it's washed totally clean, which may mean someone sprayed it with cleanser. So the parsnip is knobbley— until recently that root was a live, growing thing, synthesizing energy from the sun and storing it underground for you to absorb those transmogrified rays. It came from the earth, not an assembly line. So beets should be hairy, and sweet potatoes should have a dark, earthy look, and potatoes might have an eye or two looking at you by the time you clean them. When you choose roots, look for evidence of the garden. Most of us have running water in the kitchen.
5. Buy organic and local roots when possible, and wash well.
The 100-mile diet is impossible for most of us, but the less distance food travels, the better. Similarly, the less pesticide you swallow, the better. If we all demanded organic vegetables, the prices would fall. Look at all those packages of baby organic arugula on the lettuce pack shelves. Growers and retailers will meet consumer demand. Particularly for root vegetables, local produce often is available, if you read the writing on the bags or boxes. Still, wash well before using, or peel, or both.
6. Buy varietal roots when available.
Corn, tomatoes, potatoes, apples, and carrots have been bred for the uniformity needed for ease of transport and eye appeal on the counter, rather than nutritional quality or taste. The more variety, the wider range of nutritional possibility—vitamins, enzymes, and minerals differ from one variety of carrot to another. Retailers sometimes offer varietals: recently, we've had purple carrots and yellow nugget potatoes along with little Albertan purple ones, in a tiny bag. Farmer's markets are good for varietals. Supermarkets can usually get them too, if you ask.