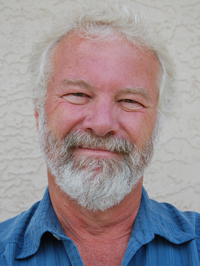 Small packages of kindness are popping up around town courtesy of the fine ladies who are members of Revelstoke Chapter No. 15 of the Order of the Eastern Star. I know because I received one the other day when I walked into Conversations.
"This is for you," Conversations proprietor Patty Campbell said as she handed me a rectangular object in a carefully stapled brown paper bag.
"What is it?"
"I don't know but it was left here for you and I was supposed to give it to you if you came in."
Shaking the sealed bag produced a rattling sound. but otherwise no hint as to the contents. I did, however, know that I was the recipient of a random act of kindness, courtesy of a classy woman who shall remain nameless. She's also a member of the Order of the Eastern Star and had e-mailed me to say I should drop by Conversations because there would be something there for me.
Inside the bag was a rectangular package wrapped in lime-green paper printed with aphorisms about charity and kindness. And that was inside a cellophane bag covered in smiley faces. A tag said merely, Random Acts of Kindness Week Feb. 15 — 21, 2010.
The unexpected gift, which made me smile, was a box of Neilson Dark Buds. Mmmm… dark chocolate… my favourite kind of brown gold.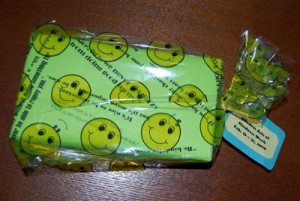 What I like about this — besides the delicious chocolate, which I'll enjoy with my partner, Sue — is the deliberate act of kindness that set a kind of psychological standard for the day. Start the day like this and you're bound to feel upbeat and well-intentioned towards others for the rest of it. The feeling is not dissimilar to the sensation I get when, in heavy traffic, another driver is deliberately courteous. My inclination, then, is to be just as courteous towards others throughout the day. And in a civilization that so often seems to focus on greed and whining, any act of kindness really stands out.
I don't know the reason why I was selected to receive this tasty treasure and I won't question it. Thank you for this. You made my day.