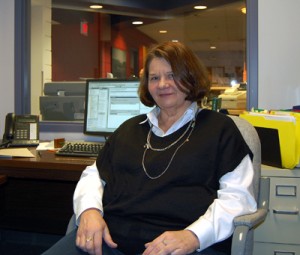 By David F. Rooney
Kerry Dawson, Revelstoke's new director of Parks and Recreation, is eager to make a good impression and learn as much as she can about the city's people and community groups.
"I am so impressed with how active people are in this community," she said in an interview on Friday. "I haven't met anyone I don't like and I'd really like to meet as many different people and groups as possible."
Dawson has her work cut out for her.
"Alan Chell did an amazing job," she said when asked if she was up to filling his shoes. "For me it's about learning how things have been done historically and looking at ways to improve the programs we offer at our facilities."
While she hasn't yet determined exactly how to go about doing that she will be looking at the way programs at the Community Centre, Forum and Aquatic Centre are being marketed. Facilities like these never make a profit, but they can improve their bottom line somewhat and Dawson would like to achieve that goal.
A native Edmontonian she has worked extensively in Alberta filling a variety of posts in Edmonton, Calgary, Hinton, Jasper and Red Deer where she headed that city's Arts Department.
She enjoys "net sports" such as badminton, volleyball and basketball but laments the fact that about the only exercise she manages these days it walking her golden retriever, Dali. She is also very keen to become involved in the local arts community.
l