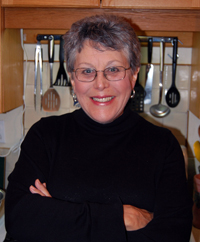 March 15th will be the one-year anniversary of the opening under new management of the Revelstoke U-Brew.
"When Joël wants something, he really makes sure he gets it," Kristi Mortell-Leblanc says of her partner. So on February 16th, 2009, Joël proposed, and the very next day he and Kristi bought the U-Brew from Jamie and Cathy Burke. Joël, an Edmontonian, used to work as a forest fire faller, and after living here for six years while knew he wanted to stay in Revelstoke. He was looking for a business that would allow him and Kristi to build a life here when he heard about the U-Brew. Kristi is from Calgary, and is completing her education degree at UBC Okanagan. They both love the region, have bought a house and a share of a property at Galena Bay, so count on them staying around. Their mission as brewmasters is not just to make good wine and beer, but to "become part of the community."
Joël and Kristi have kept on Larry Olssen as brewmaster. "We could see that Larry makes a real contribution to the product," Joël says. "Larry has twelve years experience as a wine and beer maker." Old customers continue to come in to see Larry, bringing him lunches and treats.
The U-Brew has had a good first year under Joël and Kristi. Sales are up, customers are more numerous, production figures are up. They've built on the past, and expanded. The U-Brew uses the best wine kits available, and relies on Larry, for technical advice and staffers Cathy and Evan for help with the often arduous work of making sure every customer's batch or brew is on schedule.
"We also been exploring product ranges," Joël says. "We now can do a wider range of  beverage, including liqueurs, schnapps, brandies, coffee liqueurs, light spirits such as rye and gin and non-alcoholic but yeasted root and ginger beers. But you have to understand that the spirits and liqueurs are only 23% proof—all that's allowable by law in BC."
"One reason that making your own wine or beer is cheaper than buying it at the liquor store is that there's no government tax on home brews—federal or provincial," Joël says. On average, the price of a bottle of wine or beer that you make yourself at the U-Brew is half what it would cost commercially.
Joël and Kristi want prospective clients to know that they do most of the work. The individual winemakers come in to "pitch the yeast" and to bottle the product. Another innovation is their list for shared batches of wine or beer: identify a wine you want to make, from the brochure, and put your name on the list by the door to find a partner who will take half the batch—makes it easier to enjoy several different wines or beers, instead of building a cellar based on one variety.
Joël and Kristi are of proud of their community connections so far, with donations in either money or kind to the Rod and Gun Club, the Women's Shelter, Minor Hockey, the Grizzley Run, and the Beta Sigma Phi Society. They're also very pleased that both previous owners of the U-Brew still come in to bottle beer and wine. Barry Urquhart who started the business is still a customer seventeen years later, and so are the second owners, Jamie and Cathy Burke—Cathy's mother Sheila was in when I went to do this interview, working at the bottle capper.
"What's the best thing about this business," I ask Joël.
"I never deal with unhappy people. When I call to say someone to say 'Your wine or beer is ready to bottle,' they're very happy. It's great."
March 15-31 is Customer Appreciation month at the U-Brew. If you take in a Food Bank donation, you'll be entered to win a weekly prize draw for a batch of wine or beer.