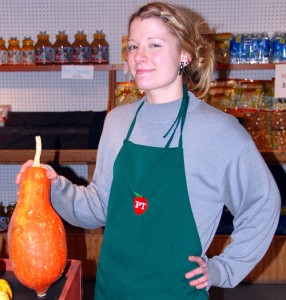 RECIPES
Easiest Baked Squash
Roasted Golden Nuggets
Gingered Squash Cream Soup
Butternut Squash and Hazelnut Lasagna
Easiest Baked Squash
Cut squash in two. Scrape out hairy bits and seeds with a spoon.  Rub the insides with 1 Tbsp best olive oil and some black pepper. Put in dish with ½ inch of water. Bake in 375F oven until soft. Fill squash halves with rice or quinoa, perhaps mixed with some chicken, or tofu, corn or peas. Top with a pat of butter, and salt and pepper to taste. Serve in the shell, or spoon out of the skins and mash.
Our dog Cookie used to love to eat the squash skins, so they must be nutritious.
Roasted Golden Nuggets
This recipe works for any root vegetable — parsnip, potato, beet, carrot — or any mixture of. Roasting vegetables rather than boiling them, retains all the nutrients — you don't pour them down the sink with the water. Roasting nuggets concentrates the sugars on the outside of each little piece, enhancing the flavour.
1 winter squash, any variety
1 Tbsp olive oil
1 Tbsp balsamic vinegar. Malleti is the best, but failing this, use another. A flavoured balsamic will give you distinctive flavours, and is a good way to vary the recipe.
salt and pepper to taste
Preheat the oven to 375F.
Peel the squash. This can be a tough job, especially with acorn or the squash with ridges and knobbly skin. Cut the ends off first, then section the squash into six. A good vegetable peeler will take off some of the skin; to remove the rest, try cutting down the centre of each ridge so that there's a fairly flat surface that the peeler can deal with. If this fails, use a sharp knife, but leave the squash section on the cutting board and cut downwards onto the board to remove the peel in strips.
Cube the squash into about 1 inch (2 cm.) cubes. You can vary the shapes here, but the larger the pieces, the longer the cook time.
In a big bowl, put the olive oil and balsamic vinegar and mix thoroughly. Add ½ tsp of black pepper and a pinch of salt. Put the cubed squash in the bowl and mix thoroughly to coat each side of each squash piece.
Put all the coated squash nuggets onto a flat baking sheet. Set the timer for 20 minutes; turn, set it again for another 10. Check for doneness. This usually takes 40-50 minutes, but some squash takes an hour and others only 30 minutes, depending on freshness. The perfect nuggets will be golden with some brown on the outside. Add more salt and pepper to taste.
As a side dish, this goes particularly well with chicken, turkey, pork and solid white fish such as halibut. As a main, serve with brown rice or quinoa and a lovely big leafy salad.
Gingered Squash Cream
We experimented to get this squash soup recipe that's not too sweet, too spicy, or thick as porridge. I use a hand-held blender that goes right into the soup pot for this, but a regular blender will work as well — be careful when transferring and whizzing hot soup in an upright blender — hold the lid on very tight. Everything goes in one pot, then later you whiz it smooth and add the cream. Peeling the squash is the only real challenge.
4-5 cups chicken stock
water
6 cups peeled and chopped winter squash
1 medium onion, peeled and diced
2 small potatoes, peeled and chopped
3-4 cloves garlic, peeled and chopped.
1 2-inch piece of fresh ginger, peeled and finely grated (use a rasp if possible)
1 tsp ancho chili powder
coarse salt and fresh ground black pepper to taste
1 cup of whipping cream
Put all ingredients except the cream into a large pot. Add enough water just to cover, if necessary, and bring to a boil. Turn down the heat and simmer uncovered for about 30 minutes. When all the squash and the potato are soft, turn off the heat.
With a hand-held blender, whiz the soup so that the vegetables and broth are completely smooth. You could strain the soup at this point to ensure all lumps are gone, but if you whiz enough, you should be able to retain all that excellent squash fibre.
Add the cream and stir it in. When you are about to serve, heat to boiling point but do not boil. Season with salt and pepper to taste.
Garnish with a small drizzle of cream and balsamic on top—a la barista in a pattern if you can do it—and a few chopped pecans or some very finely chopped parsley.
Variations: for thicker soup, use 8 cups squash and 3-4 potatoes. For a tart flavour and fewer calories, try using 2 cups of buttermilk rather than 1 of cream. You can also add carrots to this soup, if you have them in the fridge whining at you to be used up, but parboil them first in the micro with ½ cup water, as they take much longer to cook than the squash or potatoes.
Butternut Squash and Hazelnut Lasagna
Adapted from The Gourmet Cookbook, 2004, with a few changes.
This is a lovely vegetarian lasagna good enough for a party. The hazelnuts take the place of meat, and the cheese adds the richness we associate with celebration. Use a 13 x 9 x 2 inch baking dish—I tried it in a bigger one and it was too dry. You can spread the prep over a couple of days. Roast and rub skins off the hazelnuts first, and roast the squash the day before. You can make the sauce a day ahead, then assemble the lasagna on the morning you need it, packing it in the fridge to be baked later.
I use fresh lasagna in those packets from the meat counter — saves one step, as there's no boiling of lasagna noodles first. I've tried it with the cardboard package no-boil noodles, and the result wasn't as good. If you use regular lasagna noodles, make double the sauce recipe and use as much sauce as you need and then some.
The other secret here is to use fresh cheese. Use the buffalo mozzarella in balls packed in water, or what's called baby bocconcini. These don't grate, exactly — more like smushing them up, but the bocconcini add a creaminess you don't get with packaged aged mozzarella or heaven forbid the pre-grated kind in plastic which add a stringy elastic quality to the dish, reminiscent of cheap pizza. Also, get whole chunk Parmigiano-Reggiano, and don't use the one grated at the supermarket and sold in plastic tubs. A lump of honest real cheese — a little of which goes a long way — is very slightly more expensive (at Coopers, it's about $5 for 125 grams of pre-grated and about $6.25 for the same amount of the real thing) but hugely more flavourful.
Roast the hazelnuts
1 cup hazelnuts. Toast these in a 350F oven for 5-10 minutes, watching like a hawk to make sure they don't burn. Put them on a clean kitchen towel on the counter, fold the towel over them, let cool slightly, and rub the skins off.
This is tedious but eventually the skins all do come off. Don't be tempted to skip this step, as I did the first time I tried it, and had to watch my guests pick the skins out of their teeth for the rest of the evening, a hazelnut skin apparently being immortal. Chop the nuts into pieces the size of a dried white bean.
While the oven is hot, roast the squash
3 pounds butternut squash, peeled, seeded and chopped into ½ inch dice
3 tbsp olive oil
2 tbsp balsamic vinegar
Mix the oil and vinegar into a vinaigrette, and mix the diced squash into the mixture. Roast until tender, see Golden Nugget recipe above, until done—about 30 minutes, turning as needed every 10 minutes.
Make the filling
Sauté together in a large non-stick skillet the following:
1.5 Tbsp butter
1 large onion, peeled and chopped
1 tsp minced garlic
1 tsp salt
¼ tsp pepper. Use white pepper if you care about the specks.
2 Tbsp finely minced parsley
4 Tbsp finely chopped fresh thyme
Add the roasted squash and the chopped, skinned and toasted hazelnuts, reserving 1 Tbsp of the nuts as a topping. Reserve filling in a bowl.
Make the sauce
3 Tbsp unsalted butter
1 tsp minced garlic
5 Tbsp all purpose white flour
5 cups whole milk
1 bay leaf
pinch of pepper
Make a Béchamel sauce: Melt the butter in a heavy saucepan. Stir in garlic. Stir in flour, bit by bit, until you have a heavy paste. Using 1 Tbsp at a time, stir in the first cup of milk until the paste of butter and flour is what's called in French a roux. Then add, little by little, the rest of the milk and the seasoning. Stirring all the time, bring just to a boil, then simmer over low heat, also stirring, until a smooth white sauce thickens slightly. A whisk, the spiral kind, helps get it smooth. Now you know how to make a Béchamel, or what the Italians call a besciamella, the basis of much fine French and Italian cooking.
Grate the cheese
Grate the mozzarella roughly, and the Parmigiano finely, and reserve separately in bowls.
Assemble the lasagna
Butter 13 x 9 inch baking dish, layer the filling, sauce, and cheeses in the following order, starting with a layer of sauce on the bottom:
Sauce
Lasagna noodles
Filling
Sauce
Mozarella
Parmigiano
You should have enough for 3 layers ending with the Parmigiano. Sprinkle the reserved hazelnuts on top.
Cover the baking dish with foil, wrapped tightly, and bake for 30 minutes at 350F. Remove the foil and bake for another 15 minutes. If the top is not brown, you might broil it for 3-4 minutes. Ovens vary greatly and cooking times may vary slightly. Remove from the oven and let stand for 10-15 minutes before serving.
Serve with a gutsy red wine such as a Shiraz or Cabernet Sauvignon, or a good Burgundy or a Tuscan red such as Montepulciano. A green salad and a whole wheat baguette, or a nutty loaf, will round out your dinner, with a light fruit, gelato, or a tiny chocolate mousse (Pam's Kitchen) for dessert.  Have a little glass of port with dessert for a totally satisfying non-meat dinner.