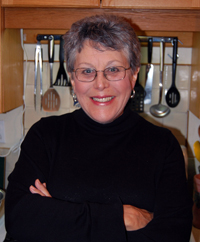 Wendy and Richard Mulligan started Chocolate Summit because — well, who doesn't love the aroma of chocolate wafting through the house? Wendy's experience as a chocolatier and maker of organic, fair trade chocolate bars, truffles and power bars before 2007 was just one training course.
"It was a really good course, through Ecole Chocolat," Wendy says, "and I did it all from home. The Internet allows you to chat to people in the course — many were chefs and bakers learning to do chocolate, so it was really interesting."
I've come to see how it's done, and Wendy shows me the molds for her Mica Heli Ski after-dinner chocolate wafers. The tiny white chocolate imprint of the Mica logo — all done in white cocoa butter, is already in place.
On the counter is a large electric chocolate tempering machine, and in it about two pounds of chocolate are heating and being stirred, turning over and over. This machine answers my number one question about chocolate: how do you keep it from burning?
Chocolate is tricky to work with. One basic rule is to temper the chocolate so than can be molded and remain glossy. Tempering means heating the chocolate to a specific temperature and cooling it under controlled conditions. It's easy to burn chocolate —hence recipes telling you to be careful when microwaving it. Also, a single drop of water in chocolate makes the whole mass "seize" into an ugly mess, after which it's ruined. Humidity is the number one enemy of the chocolatier, and Richard — handily an electrician — has installed a heat pump to air condition their "plant."
So the covered vat on the counter explains a lot: this is a professional chocolate tempering cauldron, stirring the chocolate as it heats it.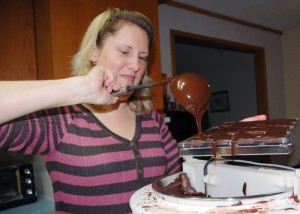 Wendy ladles chocolate into the mold, then returns the excess to the vat with a big steel scraper. "You don't want to waste any!" she says, with a wry grin. Wendy and Richard have put a lot of time into experimenting with different chocolates.
"I read Carol Off's book Bittersweet Chocolate and switched to Fair Trade products," Wendy says. "Chocolate like other foods is full of ethical questions."
"We really researched chocolate sources, and after lots of trial and error, now have the very best organic fair trade available." When I ask who makes it — "Aww, that's a trade secret," Wendy says. Fair enough.
Back to the Mica wafers. The mold tray now full goes onto a vibrator stand, to shake out air bubbles. Finally Wendy pops it into the wine cooler in the kitchen. Looks easy, but after reading about chocolate for a week, I know that chocolate making is an art as well as a profession. A meticulous mind, good organization skills, artistic talent and fine motor skills are needed to make what are essentially tiny sculptures made of malleable, climate-sensitive food products.
The profession is in the recipes, the expertise about sourcing the chocolate you want, and the knowledge of chocolate itself. The art is in the skills of designing, shaping, filling, and finishing each individual piece. Wendy has come up with her own recipes for truffle chocolates — filled bonbons coated with dark chocolate. She admits to being very particular about both ingredients and processes.
Chocolate Summit makes nine different truffles — ice wine, champagne, mulled wine, lemon buttercream, maple buttercream, mocha, orange, peppermint cream, and chili lime truffle. The list alone makes your mouth water. They also make bars of dark chocolate in two sizes, and a power bar made with raisins, cranberries, hemp hearts and cocoa nibs — all organic.
Wendy and Richard spend a lot of time doing the small jobs. "We watch TV wrapping chocolate bars," Wendy says, showing me the labels
Nicola McGarry designed. The bars keep for months in a cool dark conditions, and the truffles last well refrigerated for two months. Eating them up fast isn't usually a problem.
In three years Wendy's business has outgrown her time — she's a teacher at Arrow Heights Elementary, and she and Richard have a four-year old son. "Christmas was crazy," she says. "It was really a full-time job." Reluctantly, she and Richard have put the business up for sale. (www.chocolatebusinessforsale.com) During the slow seasons, the business takes about 10-15 hours a week, but "Christmas was crazy," Wendy says. "It was a full-time job in December." It's a labour intensive business.
But what a satisfying one. Every single chocolate is hand-made, and talking to Wendy about it, you just know they are made with love.