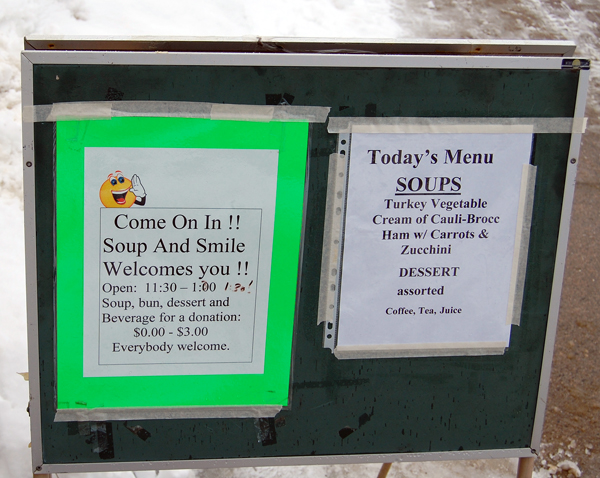 By David F. Rooney
Monday morning lunches just haven't been the same for a lot of people since the United Church Women began the Soup and Smile program a few years ago.
Back then it was a tiny program that offered, for a nominal fee, a meal to anyone who wanted it. It still does that but from a meagre handful of hungry attendees, it's now feeding dozens of people every Monday morning starting at 11:30 am.
"We're getting a real mix of people now," says Beth Campbell who has helped shepherd the program since its inception.
Anne Merritt agrees: "Drop by and you'll find seniors and young people and visitors — a whole lot of different people."
On any given Monday you'll find people like Bill and Helen Shuttleworth, Sophie Salva, Myrna Robinson, Ruth Melnyk and others on one side of the counter.  And on the other side you'll find folks like Campbell, Merritt  and Joan McGregor in the kitchen rubbing elbows with three American college grads from Chicago — Stephen Brown, Jon Happ and Gerard Goshgarian.
Campbell often refers to them as "my boys" and is quite fond of them, not least because they just want to do something socially useful and are unfailingly polite and happy to help out.
"We went through high school together and then went to different schools," Brown said. "This is the best gig we could possibly get."
And Soup and Smile is a great gig. The food is excellent. There's always soup and Maning's Restaurant donates more substantial fare every week. Then there are desserts, coffee, tea and great conversation with other locals or folks from out of town. And all for  a donation of just three bucks. That's enough to put a smile on your face all by itself.
Here are a few images we thought you'd enjoy: